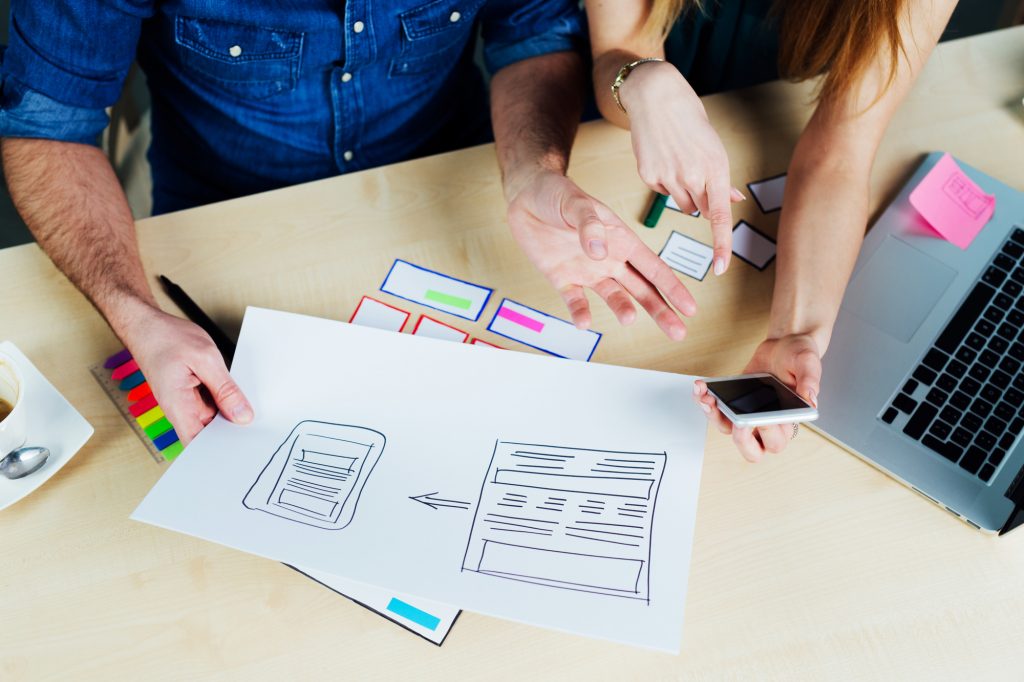 How often have you visited a website that is overly flashy, confusing, and difficult to navigate?
You often feel overwhelmed, lost, and unsure as to where you're supposed to go. As you exit the site, you have no intention to return and completely forget why you were there in the first place.
The purpose of a website is to make people aware of your business as well as promote the company mission, products, and services offered.
Web design and marketing go hand-in-hand when it comes to designing your website and promoting your business in marketing campaigns later. Both will improve your site's SEO and keep visitors returning.
Quality web design marketing will promote user experience (UX), maintain consistent branding, and bring people back to your site again and again.
So, if you're looking to create a website from scratch or redesigning your current site to catch up with the times, here is everything you need to know about web design marketing and why it's an important part of your marketing campaign.
Web Design and Marketing Tips for a Strong Website
Whether your intention is to improve overall design, promote awareness, or better collect the analytics of your site, these are 5 strategies to include in your website.
1. Search Engine Optimization (SEO)
Improving SEO is only one part of a web design marketing. Focusing on SEO alone can cause an overload of keywords and duplicated content which will ultimately decrease your websites' search engine ranking.
Instead, eliminate duplication. News pages and blogs will increase keywords and content duplication in your site. Avoid an overhaul of keywords by adding "no index" or "no follow" tags.
If your business has a wide variety of similar products, abstain from giving each product its own web page. Rather, display all similar products on one page and add short descriptions of each.
Focus on maintaining quality content and adding a strong meta description or alt tags to keep up SEO.
2. Conversion Rate Optimization (CRO)
CRO is the rate at which people visit your site and follow through with the desired goals. These goals are typically part of a marketing campaign and include purchasing a product, signing up for emails, or inquiring about services through the website.
Sadly, this is often convoluted by poor design and user experience.
When designing or redesigning your website, ensure that it is authoritative as to what it industry it is marketing. Visitors should feel the there is an authority to the site in how it is used and how it appears.
Balance is key when designing a website. Incorporating simplicity in your design will prevent confusion allow focus to be put on the call to action of your marketing campaigns.
Again, a website that is too flashy and confusing will hinder the user's experience. Your goal here is to be an authority on the content you're marketing and a site users will trust.
3. User Experience (UX)
The design of your website should clearly relay an authoritative presence and relay the mission and goal of your business. When a visitor explores your site, navigation should be easy and the site fast and responsive.
Site speed is now a ranking factor in search engines. When creating your site try to keep it light, simple, and optimized for multiple devices.
Although you're aiming for an overall simple design, incorporate images or videos to provoke emotion, add aesthetic, and support your business' goals.
Finally, ensure that the call to action is easy to find. Let's say your goal is to get visitors to sign up for news emails. Finding the place to sign up should be clear and easy.
4. Make Your Brand Clear
Brand awareness is central to your web design and digital marketing. Your brand is what makes existing and prospective customers aware of your business, products, and/or services.
As you design your website have a plan. Your site, marketing collateral, and digital media should all be consistent. If you don't have any branding in place, consider hiring a web designer who can assist you in creating a design that relays your business' vision.
5. Analytics
Analyzing how your site is used, and by who, is integral to planning marketing campaigns.
The purpose of incorporating analytics into your website is for you to understand how users move through your site, also known as check out process. Collecting this data will enable you to create strong digital marketing campaigns and learn what has and hasn't worked.
If you're unsure of how your website is ranking in search engines, there are numerous tools to check the analytics and SEO of your site.
Benefits of Hiring a Web Designer
Web design and development takes patience, knowledge of design, and coding skills. If none of the above is in your wheelhouse, you may benefit from hiring a web designer or developer.
A web designer will create the visual elements of your site based on your business' mission and vision. This includes colors, logo design, consistent branding, content organization, company goals, and incorporating a call to action.
A web developer focuses on the back end of the site. He or she builds the functioning website based on the web designer's templates.
The more information and goals regarding your business will help the web designer or developer efficiently create the website you envision.
What to Look for in a Web Designer or Developer
There are a few things you should consider before hiring any old web designer or developer.
You will want to hire someone that you can work with. The web designer or developer will be the one creating and updating your website.
Check out their style. Every designer has a style they tend to lean towards, find a style you like, as this will play a heavy part in the design and layout of your website.
What are the skills of the web designer or web developer? Depending on what you want on your site, you may prefer one person who can do both the designing and the developing or someone who specializes in one or the other.
Finding outstanding web design can be difficult. Read more here to learn how and what to look for in a reliable web designer or developer.
Web Design and Your Marketing Campaign
Now that you know how web design and marketing work together, you can create a stunning website that actually works.
Including the 5 strategies listed above and having a plan as to how and what you'll include will allow you to build a strong website. Strong web design leads to effective marketing campaigns.
If you're considering a website redesign or starting your very first website, research the benefits of working with a web designer or developer, especially if you're unsure where to start.
Before you let your newly designed site out into the world, test it to see how it rates in everything from SEO to user experience.