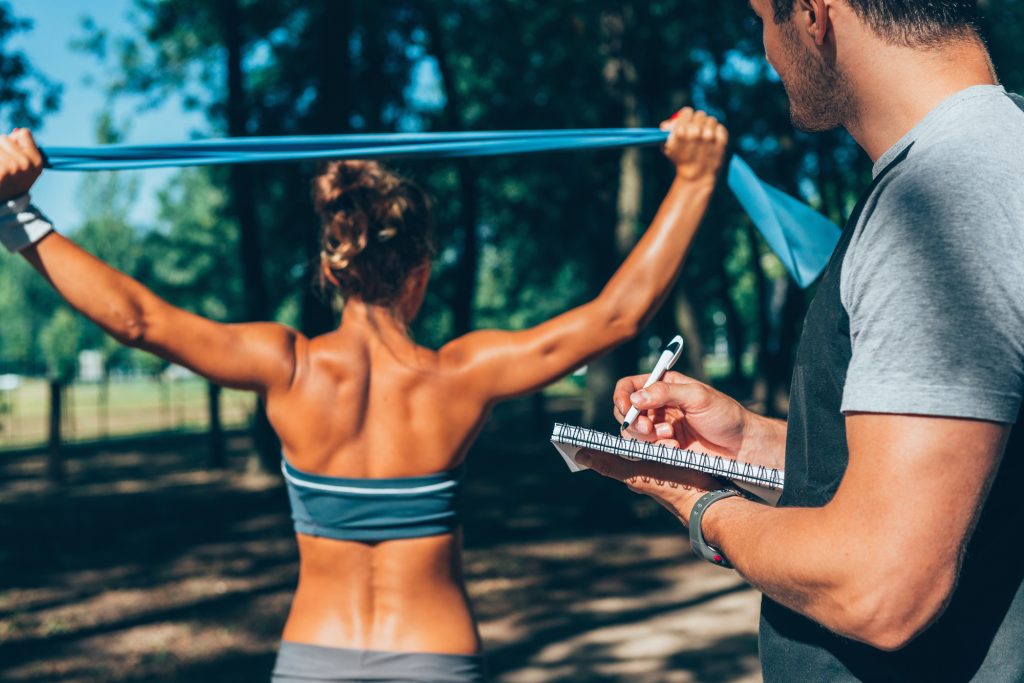 Personal trainers at the top of their game can earn over $80,000 annually. So what separates them from the average trainer?
One of the major components is marketing. Your salary is only as good as the clients that you can attract. When you market your personal training business, you need to demonstrate to clients that you are a great trainer who is worth their money, time and effort.
Don't know where to start?
In this article, we'll give you suggestions for how to market your personal training business and attract more clients without breaking the bank.
1. Ask Your Clients For Referrals
Your current clients are one of your most valuable resources when you want to market your personal training business.
That is because people are 92% more likely to trust a recommendation from family or friends than advertising. It makes sense. When a business is advertising, they want you to buy from them. Family and friends, on the other hand, want to help you find the best service.
As a personal trainer, you work hard to ensure that you have a good relationship with all of your clients. Why not leverage that relationship to bring in more clients?
Ask your clients if they would pass your name along to anyone they know looking for a personal trainer. Consider setting up a small rewards program, where you give a temporary discount or free gift to clients who bring in new customers.
An even better method? Give the gift or discount to your current customer and the new joiner.
Just be careful not to be too pushy when asking for referrals. You don't want your marketing efforts to damage your current client relationships.
2. Market Your Personal Training Business Online
Do you have a website?
If the answer is no, you need to change that as quickly as possible. 85% of consumers use the internet to find local businesses such as yours. Without a website, you are invisible to 85% of your potential customers!
If you already have a website, you're not done yet! The next step is to work on your website's SEO (Search Engine Optimization).
With good SEO, your website will appear higher up in the Google search results. This is essential, because the majority of people only look at the top three results.
Not sure where to start with SEO? Check out this tutorial to help you get started.
3. Offer Free Trials
Sometimes, the only thing stopping someone from signing up with a personal trainer is the worry that they won't like it. No one wants to waste their money.
If you offer a free trial, you can generate interest. People will be more willing to give your services a try.
Once they come for the trial, make sure to really give them the best session possible. This is your chance to show off what a good trainer you are, so they will really want to come back for more sessions.
4. Partner With Other Health Businesses
Your clients are health conscious people. They are coming to you because they want to look after their health. They are probably also going to other local businesses, shopping for things such as health food or fitness gear.
It also works the other way. People who currently shop at health-related stores care about their health and may be looking for a personal trainer.
Talk to your clients about the businesses that they frequent. Do some research of your own to see what businesses are local to your area. Then, when you find one that you think aligns with your customer base, reach out and ask if they would like to form a partnership.
For example, if you were a personal trainer living in New Zealand, you may consider a partnership with Sportsfuel Supplements NZ. Reach out and ask if they could provide samples, and in return, you would market them to your customers.
That way, Sportfuel's existing customers would find out about your business, and your customers would find out about theirs. It is a win-win!
So, try to find a local business that you can partner with. Show them how your proposal will help you both.
5. Show Your Expertise
If you like to write, a blog is an excellent way to market yourself. Write about personal fitness, and show off what you know. For example, you could write about diet plans or your favorite warm-up exercises.
You are providing valuable free content to your current clients, making them feel like they are getting more value for their money.
Plus, you show to potential clients that you really know what you are talking about. They will be more likely to want to work with you once they see the knowledge and value you can provide.
As a bonus, it will also contribute to your SEO if you do it correctly. By doing keyword research, you can find out which keywords to base your articles around. This will improve your rankings when people search for those keywords.
6. Offer Package Pricing
Once you have clients, you don't want to lose them! One way to make sure that people stick around is to offer package pricing.
Basically, make the price per session cheaper when they sign on for longer terms. If they sign up for a year, they should be paying less per session than if they sign on for just a couple months.
This will encourage people to sign up for longer plans to take advantage of the better deal, decreasing client loss rates.
Wrapping Up
When you want to market your personal training business, there is a lot you can do with some hard work and a little investment.
Creating an SEO strategy for your website and a blog will increase the chances that potential customers can find your business. Offering incentives to current and prospective clients can be super effective. A partnership with a local health business can generate more customers for you both.
So, get writing your marketing strategy today! New customers await!