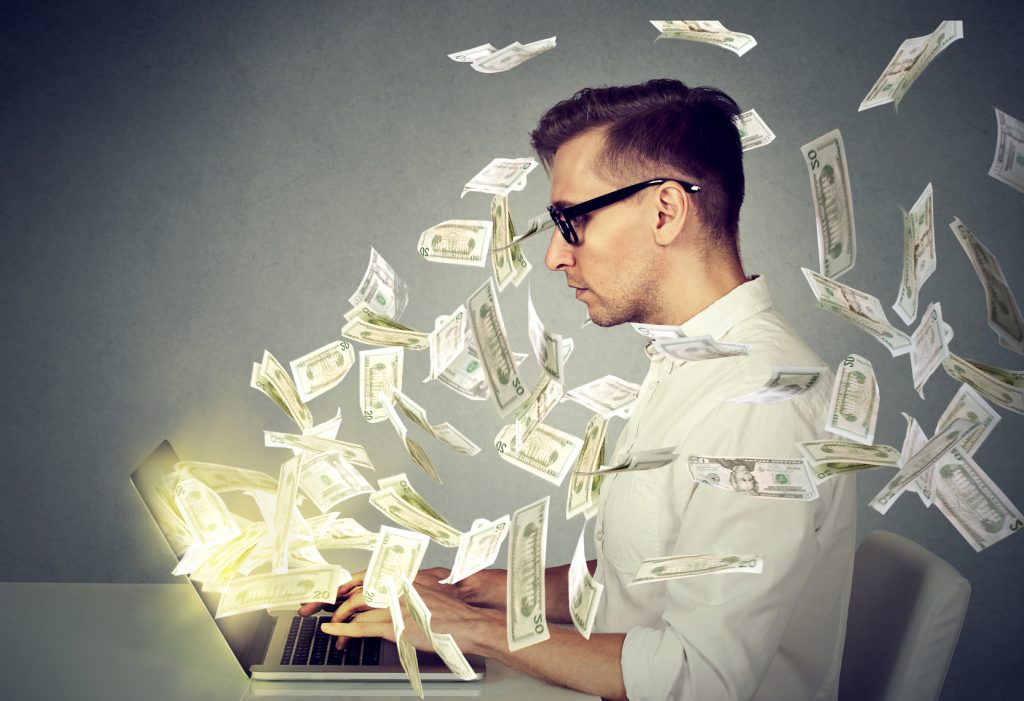 Shoppers hit the web before they bother leaving the house to purchase something; if they leave the house at all. This is why 35% of your marketing budget should go to online efforts and it's the key to money making websites.
Even if your business has a brick and mortar location, online marketing is still a necessity.
At the heart of your efforts will be search engine optimization. This goes for everyone. From Fortune 500 companies all the way down to affiliate marketers and bloggers.
Keep reading to find out 10 methods of money making websites. The first five will be how to get people to your site and the second five will be how to get money from their hands into yours.
1. Keep the Content Coming
Content will always be king. The easiest way to produce content is through a blog or through video, such as YouTube or Facebook Live.
Can't decide? Do both.
Some people watch video and read online content, but the majority of people prefer one platform over the other.
The majority of your efforts should go into creating the best content on the web.
2. SEO
At Webconfs, we love our SEO. It's the soul of every money making website and we offer a free tutorial to help you get started.
The basics break down like so:
Internal and external links
Great content
Promoting said content
Plugins
Social media
Link building
Furthermore, SEO is broken down into two different types: On-page and off-page. On-page SEO is what you can control completely. This is your blog, your site itself, accurate NAP information, and your plugins.
Off-site SEO is going to be social media efforts, local SEO practices, and link-building efforts.
If you're an entrepreneur or a small business owner, SEO is an inexpensive way to get your website some visibility. You don't have to do it all yourself, and some of the more expert practices should be left to professionals.
3. PPC
Adwords is how Google makes their money. They charge companies to place their ads in the SERPs as well as individually placed ads on websites.
You, as the ad creator, are charged every time someone clicks on one of your ads. In the past, this was an effective marketing tool for money making websites. And to a degree, it still is.
PPC ads are the most effective form of advertising if you're in tune with your target customers. If you know exactly what they want and when they want it, PPC can still be successful for your business.
Bottom Line: SEO and PPC can and should work in tandem with nearly any marketing strategy.
4. Email
Are you about to launch a new product or service? If you have a subscriber list of ten thousand, that's ten thousand people who will know about your new offering on day one.
It's not going to get any better than that.
If you want to be successful with money making websites, the first order of business is to start building your email list and using it wisely.
Don't spam or annoy your readers.
5. Influencer Outreach
Breaking news from Forbes. You should be utilizing micro influencers for your money making websites. They have better, closer relationships with their followers than the Biebers and Kardashians of the world.
Do your research. Follow your own customers and target prospects to find out who they follow. Reach out to these individuals and inquire about their services.
You believe in your product or service but it's not always easy to convince a wary prospect you're the best. A micro influencer will have much better luck. You'll save time and money using their services.
You've followed the above steps and now you're thinking, "Well, I've got them to my money making websites, now what do I do?"
Here are some tried and true methods of making money online:
6. Affiliate Marketing
Amazon is probably the most heavily used affiliate marketing program at this point. You sell something on your website. You get a commission.
Most affiliate programs will have a tracking cooking, sometimes for as long as two or three months. So if the person doesn't buy today or even tomorrow, you can still get your commission when they come back to the site in a couple of weeks.
7. Products
You have your own product to sell? That's awesome.
While affiliate marketing is great, the commissions are usually low and if you're selling your own products, that means the majority of the profits are going where they belong — in your pocket.
Digital products like ebooks and PDFs are crowd favorites. It also doesn't hurt to throw these types of products around as freebies. They provide an incentive for people to join your email lists or to spend money on more expensive merchandise.
8. Services
What's the easiest way to make money?
Sell a service you're already doing.
If you're an SEO for an agency or firm, branch out and do some freelancing. It could be something simple like audits or consulting work.
If you want more exercise, sell a dog walking service. Love to drive? Consider Uber or Lyft.
Starting a blog talking about your positive experiences is a great way to draw attention to the service you're offering and you'll likely see a return in the future.
How? If local people see you're having a great time as an Uber driver, they'll contact you directly through your website. Say goodbye to their 20% fee and say hello to more profit.
9. Ads
Google Adsense was once the king of ad networks. They paid well, there were few limitations, and people were making a legitimate income.
While this has changed over the years, if you've got a high traffic website, there are still viable ad networks who will pay top dollar to have their ads on your site.
You're not going to make a million dollars off them, but sometimes something is better than nothing.
10. Ask For Money
This can be as simple as putting up a PayPal donation widget. There are other services, such as Patreon. This is the perfect kind of setup if your website is art based and you don't have much to sell.
You can repay these monetary donations with some sort of service or you can just ask for a handout. While this isn't the best way to make cash online, they do work and are a great example of adding another passive income stream to your repertoire.
Money Making Websites – The Takeaway
There is no shortage of ways to earn cash from your money making websites.
The key is to get your content and SEO game on point so your organic traffic continues to flood your site at no additional cost to you.
Remember, you'll get out what you put in. Research your keywords and make a visually appealing site with great content. Be patient and have faith in yourself.
If you're ready to get started with the initial steps, do yourself a favor and check out our free SEO tools.