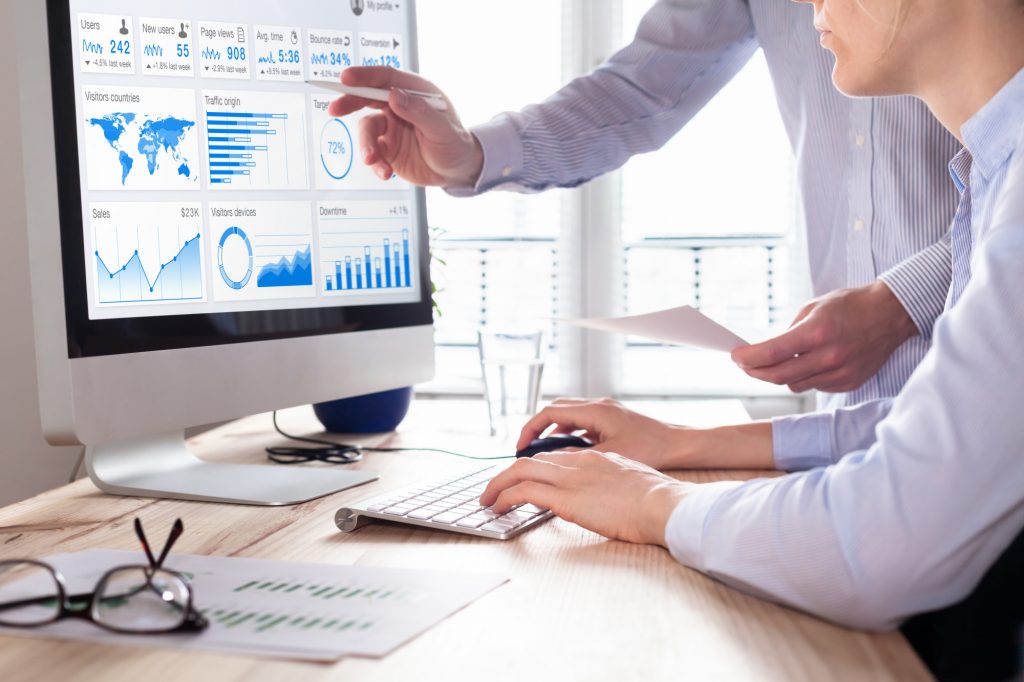 Are you managing a digital marketing agency? Are you looking for ways to create a buzz about your agency? Are you struggling to get ahead in a cutthroat industry?
If your digital company is new, one of the first things you need to focus on is developing your website. Like it or not, the quality of your web design affects the behavior of your target market. Perform poorly in this category and you can expect less website traffic.
With all the complexities in web design, you need to draw inspiration from the best marketing websites out there.
Continue reading below and discover some of the coolest digital marketing websites.
Take Cues From the Best 
Effective web design involves key elements. If you wish your digital agency's market, you need to get your website's design right.
One of the key elements you need to focus on is your website's ease of use. Another important aspect is the aesthetics. This involves color psychology, which some agencies tend to overlook.
Moreover, you also need to come up with solid copywriting.
But everything should start with inspiration. Here are 12 of the best marketing websites worth emulating.
1. Be Heard
Be Heard's website is one that is overflowing with personality. It is full of images arranged tightly. It also comes with portraits of their employees with their handwriting on the side.
All of these – along with the use of bold lines – form a unique and dynamic background.
The website also features a "Work" section. Here, you will see colorful square images of people, things, and places. These represent their previous projects.
Be Heard masterfully arranged the images side-by-side without the use of any padding.
Hovering your mouse over the images will reveal more details about the projects. Clicking the images will unveil a specific hero image for each project.
2. Sagmeister & Walsh
This digital agency's website stands out primarily because of its homepage. Sagmeister & Walsh decided to use a streaming live video of their office as their website's home page.
This gives visitors an in-your-face look at how people in the agency work on their magic.
The website also features heavy use of black and white colors. Moreover, it uses a plain text font for the different section titles.
This simple and minimalist approach is somewhat deceiving. Once you click on the "Work" and "News" sections, colors will finally greet you. Furthermore, the blending of the colors with the black and white backdrop exudes a luxurious feeling.
Clicking on each case study will give you that feeling that is akin to flipping the pages of a coffee table book.
3. We Are Friday
If typography is something that attracts you, We Are Friday's website will inspire you. The home page greets you with a rousing welcome through bold typography on the left-hand side. This boldness sends you a message that the agency is asserting its expertise.
When you explore the subpages, you will notice the same font. This time, the words now scroll across your screen.
But the real highlight of their website lies at the bottom part of the page. The webpage footers for each page come with striking illustrations. This veers away from the traditional footers that lack character and excitement.
4. Code
Another company that wisely uses typography is Code. But what sets their website apart is the use of big colors that complement the chunky typography.
Apart from aesthetics, the website also offers easy navigation. As for the copywriting, it sticks to clarity and simplicity.
When you click on the "What We Do" page, you will see different categories. These categories come with call-to-action buttons. Clicking the buttons will prompt email correspondence.
This feature cuts down the steps and saves your time and effort when reaching out to the company.
5. Red Badger
Though some websites put a premium on the use of colors, Red Badger tries to limit their selections. Despite using only black, grey, red, and yellow, the company uses the palette to perfection.
Moreover, instead of showcasing pictures and bold texts, they focused on copy alone. To make the texts more interesting, they support them with numbers and stats. This move gives visitors an idea of how Red Badger's previous projects fared.
Furthermore, you will also notice the use of spot illustrations. These illustrations put character and personality and give you a taste of subtle humor.
Some of the funny characters in the illustrations include their office dog Milo Castro and Cardboard Box Shredder.
6. Dogstudio
The unique approach of Dogstudio lies in the presentation of their home page. When you click a particular project, you will not see a case study page. Instead, the website redirects you to the client's actual website that Dogstudio designed.
This prompts prospective clients to focus their attention on the work itself. It also reduces the need for marketing spiels and flowery words.
Additionally, Dogstudio uses an interesting choice of words in their copy. Some of them even border to inappropriateness, which easily catches the attention of visitors. You can find these strange sentences on the website's contact page.
7. RNO1
Digital agency RNO1 caters primarily to the west coast market. Since its headquarters are in California, the company made sure its website carried cool and liberating vibes of a surfer.
As "embracers of change," the company uses images of the ocean, waves, and surfing on its website. This signifies the changes that come with the ocean's tide. Moreover, it also gives visitors that calm and relaxing vibe.
Additionally, their website already won numerous awards. These include Best UI Design, Best UX Design, and Best Innovation.
8. Flightpath
This agency aims to create experiences that connect on a human level. But not just your typical human level; it must be a "difference-making" one.
The company embodies this goal on its website. They use animations that merge human and creativity.
They also use bold texts that easily capture attention. Most of the bold texts are on the home page. They all provide links to different sections like "Blog," "Our Services," and "Let's Work Together," to name a few.
Each page comes with images with moving elements. They also contain extensive details that will give visitors a clear overview of what they are offering. Additionally, each page comes with a different color for the backdrop.
This gives each page its unique personality.
9. Luminary
Australian agency Luminary offers a wide range of digital services for big and small clients alike. As a testament to their vast expertise, the company made sure its website reflects its dynamism.
The website is full of colors of different tones and hues. As you scroll down the screen, you will see the colors transition to a different one. The colors change when you reach a different section.
Furthermore, they also use pictures of different persons and the work they do. This provides a more human appeal that connects to visitors.
Additionally, the website offers several ways of interactions. By combining bright colors, bright dots, and moving images, visitors will likely click all over the website.
10. Isadora Agency
If you are catering to the e-commerce and business-related market, you can draw a few design inspirations from Isadora Agency. Their website's backdrop is a deep purple. It eventually transitions to different shades of purple in a matter of seconds before the text saying "Digital Transformation" appears.
This striking transition gives viewers a dream-like sequence. As you scroll down the home page, you will notice white sections breaking the purple. When you click at the different sections, various images will appear.
They also come with accompanying texts. These provide a clear-cut explanation of the page or case study you are looking into.
Overall, Isadora Agency's website gives you that professional vibe with an interesting touch of color play.
11. Search & Gather
Simple but modern are the two best words that describe Toronto-based Search & Gather's website. It features a simple layout where different images break the home page into different sections.
As you scroll down, you will see the different sections. Each section comes with descriptions that give visitors a clear overview. It is easy to navigate as you go through their services, projects, and client testimonials.
Search & Gather's website is an excellent blueprint for start-up agencies that want a straightforward website with little fanfare.
12. Stink Studios
Last but not least is the website of Stink Studios. Contrary to what their name says, their website certainly does not stink. It gives you a similar feeling to browsing fashion magazines.
Unlike most websites, it comes with little trickery in terms of scrolling. This approach also makes it look good on mobile devices.
Scroll down to the "Contact," "News," or "Work" pages and see the images move. The screen also showcases flexibility. It allows you to move your mouse to the left margin.
This vertically unveils the header menu.
Learn From the Best Marketing Websites
By drawing inspiration from some of the best marketing websites, you can design your website into something that will attract your target market. But attracting the right audience is a small part of the bigger picture.
You need to continue improving your website by incorporating analytics and other strategies.
We invite you to check our different blog posts on website development. We feature different tools and strategies that improve websites in various aspects.