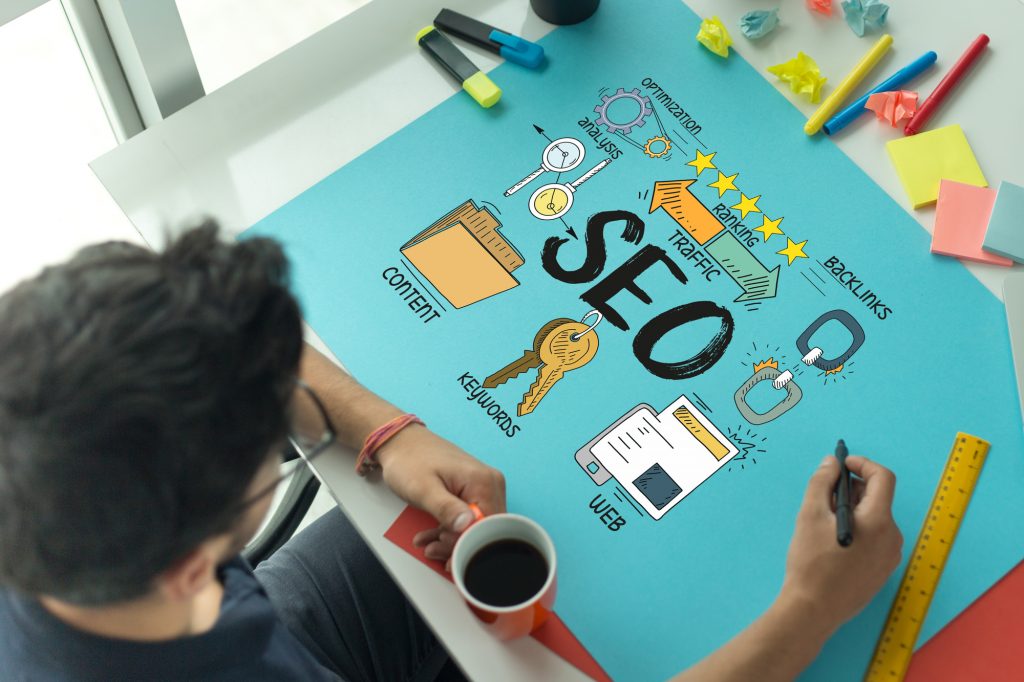 Once upon a time in the search engine universe, all you needed for a high ranking on Google were keyword choices and some great content to go along with them. However, just because you've created a ton of content for your site, doesn't mean it shouldn't be meaningful and relevant.
One way to do this is to make sure you're creating a top-notch visitor experience combined with quality content. Offering this type of experience – also known as "white hat SEO" – is essential for your site to be a success. Rather than rely on search engine rules alone, white hat SEO offers a more personal experience that is sure to impact your visitors.
But how exactly does it work? Look at our 10 suggestions below and get ready to brainstorm with your team. Not only will you see immediate results, but you'll be giving your visitors a great experience as well.
What is White Hat SEO?
SEO, or search engine optimization, is one of the driving forces behind your site's exposure on Google. And because your content is one of the top reasons for your SEO ranking, it's important to know how to make it work to your advantage. In order to stay on top of the trends, you've got to be willing to roll with algorithm changes.
10 White Hat SEO Tips to Double Your Site Traffic
Take a moment to consider your goals and reflect on the quality of content your site offers. Do you come across as an industry expert whom professional look to for leadership? Or a novice?
Regardless of where you stand, we all can benefit from improving what we provide by challenging ourselves to be our best. Take a look at these 10 white hat SEO tips and try a few of them today. You'll be glad you did!
1. Relevant Published Content is Key
Face it: you can't thrive for very long if your content is not relevant. Not only will irrelevant content harm your site's chances for success, but it will also confuse your audience. Take charge of your site by demonstrating you're a leader in your industry.
Ensure your content is as specific as possible for your target audience so they will return again and again. As long as you remember that people come to your site for your expert knowledge, and not for fluff, your site will thrive.
2. Choose Quality Content Over Quantity
While it's tempting to load up your site with a ton of content, it can be problematic in the long run. Rather than focus on the amount of content you're creating, it's important to focus on the quality instead.
You can do this by putting more effort into research and analytics in regards to your audience. Take your time to find out their interests and create more content based on their statistics and it will be your recipe for success. Remember to use the best keywords possible, including the meta description, title, and SEO title, for optimum results.
3. Do Your Keyword Research
One of the easiest and most effective white hat SEO tools you can use is knowing how to make keywords work to your advantage. Because Google's Rank Brain system uses machine intelligence to detect and rank search algorithms, it's vital that you understand your keyword values.
No matter what type of keyword tool you implement, make sure you get the most relevant words for your site. This includes synonyms, answers to questions asked on your site, and relevant keyword phrases which Google is very adept at detecting.
4. Keep Link Building Goals in View
The goal with link building is to ranks as high as possible in the search engine world. To be a top leader in Google's algorithms, you must understand how your link building helps attract more visitors to your site.
When choosing links, make sure they are of a high quality and bring value to your site. There's nothing worse than loading up your site with irrelevant links with no strategy in place.
5. Don't Be Afraid to Regularly Use Evergreen Content
It's more than okay to regularly use evergreen content, as long as you keep it fresh. Even a popular blog post from 2015 can still be relevant as long as you update it to reflect any changing perspectives.
However, although it might be dated, avoid deleting older but more successful blog posts. Create an archive for evergreen content instead to reflect your authority on the subject matter. Evergreen content also helps boost domain traffic with repeated hits.
6. Mobile-First Indexing Drives Success
When Google rolled out the beginning phases of mobile-first indexing earlier this year, it opened the floodgates for algorithm shifts. Not only did Google begin ranking mobile sites separately from desktop sites, but it also prioritized how desktop sites are ranked through mobile pages.
In a nutshell, mobile-first indexing helps boost search engine rankings for a site and produce a more optimized mobile device experience. In fact, 52.2 percent of web search traffic was generated through mobile phones.
7. Research Your Competitors
There's nothing worse than being lost in a sea of sameness. To help your site stand out, it's important to know exactly how you stand up against your competition. Use what you learn in your research to your advantage and help make your brand that much stronger.
8. Create the Ultimate User Experience
User experience is one of the most important places to build your reputation. Rather than shortchange your visitors, leave this part of the equation to the pros. And by pros, we mean hiring a web designer to transform your site's UX from average to stellar.
Not only will your site visitors appreciate your ability to put their needs first, but they'll return again and again for the ultimate user experience. This is a win-win situation for both you and your visitors.
9. Invest in Quality Content Marketing
You could have one of the best-designed websites in the world, but if you have no consistent traffic, then you're setting yourself up for failure. Don't become a content marketing failure statistic and get lost in the fray. Instead, consider investing in a quality content marketing plan to help your site get the exposure it deserves.
10. Update Your Site's Content
The content you share influences 50 percent of Google's ranking equation. So if you aren't regularly posting updated and relevant content, now's the time to get cranking.
In order to stay in the Google game, you need to consistently update your content to stay aligned with Google's algorithms. Feeling uninspired to create new content ideas? All it takes is patience, research, and a bit of dedication to understanding how to unblock your creativity.
Are You Ready to Get Started?
Don't let another day go by without giving these 10 essential white hat SEO tips a shot. With a little extra focus on your part, your site will be ranking double in no time flat.
For more great SEO tips, be sure to visit our latest blog posts.