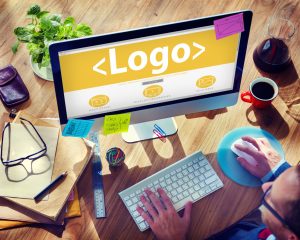 Why Design a Logo?
If you're reading this post, chances are you're looking for that perfect logo design!
Today, messages constantly clamor to be noticed. What chance does yours have of making it on your audiences' radar? How can you make a memorable impression?
One of your keys to success is a logo. Visual memory is much more powerful than verbal memory.
In one study, observers viewed up to 10,000 images for a few seconds each and reported that they could subsequently identify which images they had seen with 83% accuracy. [source]
Can you afford to invest in a high-dollar logo right now? Are you willing to plunk down whatever it takes to get decent work from an online freelance marketplace?
If you answered "no" to either question, a free logo maker might be a great option for you. Keep reading to find out.
Who Needs a Logo Maker?
As Forbes notes, we find graphic design to be both a critical and necessary component of launching a small business.
A logo can help make a memorable first impression, both online and offline. It polishes a business's image by tying together social media, web pages, stationery, vehicle signs or wraps, promotional giveaways, and the like.
For self-employed contractors, logos lend credibility to business forms such as sales contracts and invoices. A logo can look great added to your e-mail signature.
A free logo maker can help you add eye candy to blogs (such as Perez Hilton's signature hot pink name) and create a polished look.
Logos can also add a nice touch to projects such as self-published books, causes, and fundraising events too.
Students can use a logo to distinguish their classroom presentation templates from their peers. Some individuals carry "non-business" cards with their name, address and phone number to pass out to those they meet in social settings. Logos can dress these cards up too.
You probably got the point that logos can be useful in a variety of situations. But how does someone with limited resources manage to pull off a logo?
It just so happens that make your own logo websites are bringing logos down from Mount Olympus like Prometheus brought fire.
Can someone on a shoestring budget really get what they need with no strings? They can indeed.
Here's how:
Who Wants a Free Logo Maker?
With graphic design typically ranging anywhere from a few hundred bucks to thousands of dollars, logos have historically been out of reach for many.
Thanks to free logo generator websites, however, this is no longer the case. Start-ups, freelancers, mompreneurs, and students (to name a few) are good candidates for a free logo maker.
Unlike what some printing companies may offer, free logo maker websites allow you to create your own logo and download it without spending a penny on merchandise. Logos are available and accessible to anyone with access to a computer who wants a quality logo without paying an arm and a leg.
For those of you with no graphic design experience, being your own logo designer might seem a bit intimidating. Even scary. Don't worry: this will probably be the easiest thing you do all day.
How Hard Is It to Make a Logo?
Not hard at all. Using a free logo maker is delightfully simple, provided you use a product with a user-friendly interface.
The process is broken into a set of instructions that should frustrate you only if you simultaneously have a toddler beating you over the head with his iPad (true story):
Choose the font you want to use for your brand name or slogan.
In some cases, your name and font might alone be your logo. If not, choose from a variety of symbols or upload your own image from your computer.
Download your logo
A grid is provided in order for you to scale and align your text and symbols. You can experiment with different positions, angles, text placement, and sizes. Despite the number of choices and options, however, this is not an overwhelming process.
The software you use should give you the option of making unlimited edits and provide unlimited downloads.
Playing with colors, symbols, fonts, and sizing can actually be fun. Truly anyone can use an online logo generator. No special graphic design skills are required.
What Kind of Finished Product Will the Free Logo Maker Give Me?
With the number of options available you will be able to create an effective logo. And effective does not mean complex. Your logo should look clean and simple.
Consider the Nike logo: a solitary swoosh (which cost co-founder Phil Knight just $35 in 1971) is now world-renowned and worth a fortune [source].
You should end up with a quality image. If it is in color, it should also look good in black and white if it is printed or photocopied.
A quality online logo maker will provide you with an image that is convertible across all media: both offline and online. The image should also be scalable (i.e. easily enlarged and shrunken without distortion).
Free logo makers typically offer premium options. You might be interested in the premium option if you want a higher quality resolution or scalable vector graphics (SVG) in your logo.
How Long Does it Take to Create Your Own Logo?
Gone are the days of waiting for a tournament to conclude or waiting for a graphic designer to return your call. When you make your own logo, you can have it in mere minutes.
You will want to give some preliminary thought to your logo, however. Decide what message you want to send.
A wonderful benefit of designing your own logo is that no one knows your business like you do. And rather than pay someone to think and research for you, you can bring forth your brand directly. Without going through a third party.
Spend some time choosing colors that best represent your business.
Next, you will want to match your font with your image. Unless using your name or slogan in a particular font will comprise the logo, you will also need to review symbols until you find one that resonates with you. You can choose from abstract images, industry-specific symbols and plenty more.
Using fool-proof buttons, you can bring text forward or send it backward. You can make lines bold or transparent. After playing with your logo until your satisfied, you may even want to collect feedback.
When you create a design with a free logo maker, you can share it on Facebook and Twitter for review and comments. Give your peers, colleagues, etc. a chance to weigh in.
The amount of time you spend playing with the various options is entirely up to you. If you have a basic game plan in place, though, it should take you no more than 10 minutes from start to finish.
Is There Any Drawback to Using a Free Logo Creator?
Copyrighting the downloaded product as original and proprietary is next to impossible. As such, the most common concern is running into a competitor using the same logo.
Depending on your industry, copyrighting a unique logo may or may not be an issue. Just stop and think about how many law firms use either the Scales of Justice or a gavel as their corporate logo.
Law firms tend to use the same logo even though they can afford to customize. Being "generic" doesn't seem to hurt their business. (Nothing against lawyers, just sayin')
Another note on the intellectual property issue: if you have had any experience contracting logo design from cheap freelance service websites, you may have found that bidders sometimes claim each other's work to pass off as their own. You can avoid this seedy situation by using a free logo maker.
Some critics of free logo makers also feel that only professional designers are qualified to design logos.
You may not be a graphic design expert, but you are an expert in your own industry. And remember: no one knows your business like you do.
While this tool is not for everyone, the advantages will outweigh the disadvantages for many. If you want to stand out without paying out it is at least worth a try!
Conclusion
Logos are useful in both commercial and non-commercial settings.
Using a free logo maker spares you from the crapshoot that can ensue when you look to an online freelance service marketplace to save money on a logo. It can save you frustration, money and time.
The online logo maker is pretty cool innovation that enables you to retain 100% control over your brand image, without relying on some sort of medium to produce it for you. It gives you control over the process as well as the finished product.
You have hopefully concluded by now that anyone can design a logo quickly and inexpensively using a free online logo maker. If you have had experiences with this tool we would love to hear from you.
Please comment below!