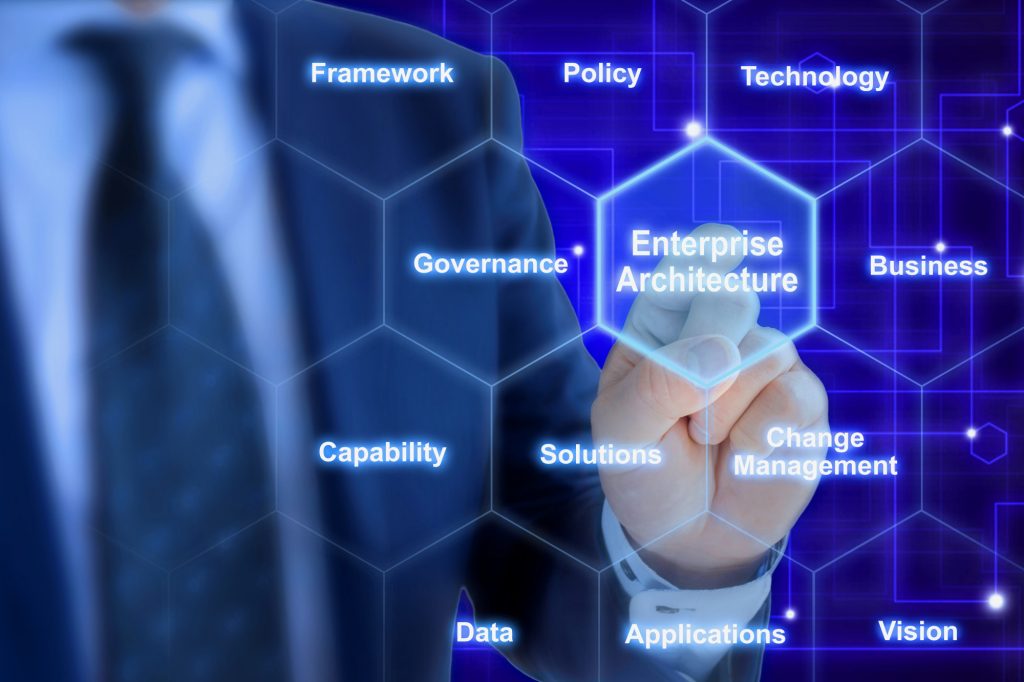 Enterprise architects are one of the growing careers in IT. Enterprise architects play an important role in businesses around the world. A career as an enterprise architect offers great growth potential.
Despite these facts, many people haven't even heard of enterprise architects. What does an enterprise architect do? Is this a good career choice for you?
Find out what enterprise architecture is all about. See why you should consider making the move.
What Is Enterprise Architecture?
Enterprise architecture lets businesses standardize and organize their IT infrastructure. It aligns IT with business goals.
Enterprise architecture provides a way for businesses to respond to disruptive forces. It's holistic and proactive. It identifies and analyzes how the business can execute their strategies, and it promotes business success.
Enterprise architecture started in the 1960s. It began gaining real visibility in the late 1980s. This was the period when computers started to take hold in business environments.
Digitization also had a large effect on enterprise architecture. The increasing amounts of information are difficult to organize. Enterprise architecture models the best ways for data to flow and how a business should store it.
Benefits of Enterprise Architecture for Businesses
Enterprise architecture has many benefits for businesses. It helps organizations use IT to gain a competitive advantage.
Enterprise architecture translates business strategies into clearly defined procedures. It identifies what technology is necessary to execute those procedures. This is one of the biggest benefits of enterprise architecture.
Enterprise architecture provides a long-term view. It shows how the business will achieve its strategic goals. It develops a roadmap of projects that will help reach these objectives.
Enterprise architecture can show how to optimize an organization's infrastructure. Optimization makes the infrastructure more efficient. The business can break down data silos and make changes more easily.
Enterprise architecture is especially useful for large businesses going through digital transformation. It helps bring legacy processes and applications together to work more seamlessly.
What Does an Enterprise Architect Do?
Enterprise architects are IT experts who analyze a business's needs. They recommend changes in technology.
Then they design and put those changes in place across the business. They help the business be more competitive, reduce its risk, and become more efficient.
Enterprise architects map the IT infrastructure that a business needs. They help the business achieve its strategic goals.
Enterprise architects link a business's mission, strategy, and processes to its technology strategy. They make sure that business and technology are aligned.
Enterprise architects use models. They show how the business can meet its current and future needs. They focus on designing solutions that are efficient, sustainable, and flexible.
Enterprise architects maintain the IT networks and services for the business. They decide which legacy systems to update and what software or hardware to replace.
Part of your job is staying up-to-date on the latest software, services, and hardware. This leads to recommendations that would make business processes run more smoothly. 
Enterprise architects work across the business to evaluate what each department needs. They analyze how the whole enterprise can work better together.
How to Become an Enterprise Architect
Becoming an enterprise architect takes time and effort. You'll need a degree, experience, and a variety of other skills. If you have passion and drive, a career as an enterprise architect will be worth the effort.
Education and Experience
To become an enterprise architect, you need an undergraduate degree. This degree should be in computer science or a related field.
You'll also need 5 to 10 years of IT experience. Some companies may require a master's degree.
Typical job descriptions are looking for someone with experience in SQL. They also want data sourcing, business strategy, and auditing. Other areas of expertise should include cloud computing, system architecture, and strategy development.
Certifications
Getting an enterprise architecture certification makes you more competitive. It shows a potential employer that you have the skills and experience for the job. You'll also usually earn more money when you're certified.
Certifications help you understand how to use and implement the enterprise architecture framework. You'll be better able to build a holistic view of the technology in your organization. You'll know how to develop an enterprise architecture plan.
A variety of certifications are available. Some certifications are vendor-neutral. Their view of IT systems and solutions is more general.
Other certifications come from specific vendors like Cisco or Oracle. The certification you choose will probably depend on your employer or industry sector.
Other Skills
Success as an enterprise architect also depends on your ability to communicate clearly. You need to solve problems and work productively with others.
Complex thinking and strategizing are also important skills. You need to be able to communicate effectively with people throughout the organization. This includes your IT coworkers as well as business managers.
Why Pursue a Career as an Enterprise Architect?
You've answered the question "What does an enterprise architect do?" Now you need to decide if it's the right career for you.
Enterprise architect jobs are some of the best paying in IT. SimplyHired reports an enterprise architect's salary ranges from $94,171 to $190,530. This salary range reflects the education and experience an enterprise architect needs.
Enterprise architects generally report directly to the chief information officer (CIO). If you're looking for a job with a high level of responsibility, you'll find it as an enterprise architect. You'll have the authority to make decisions that affect the success of the business.
Check out our other tech articles for more great insights.