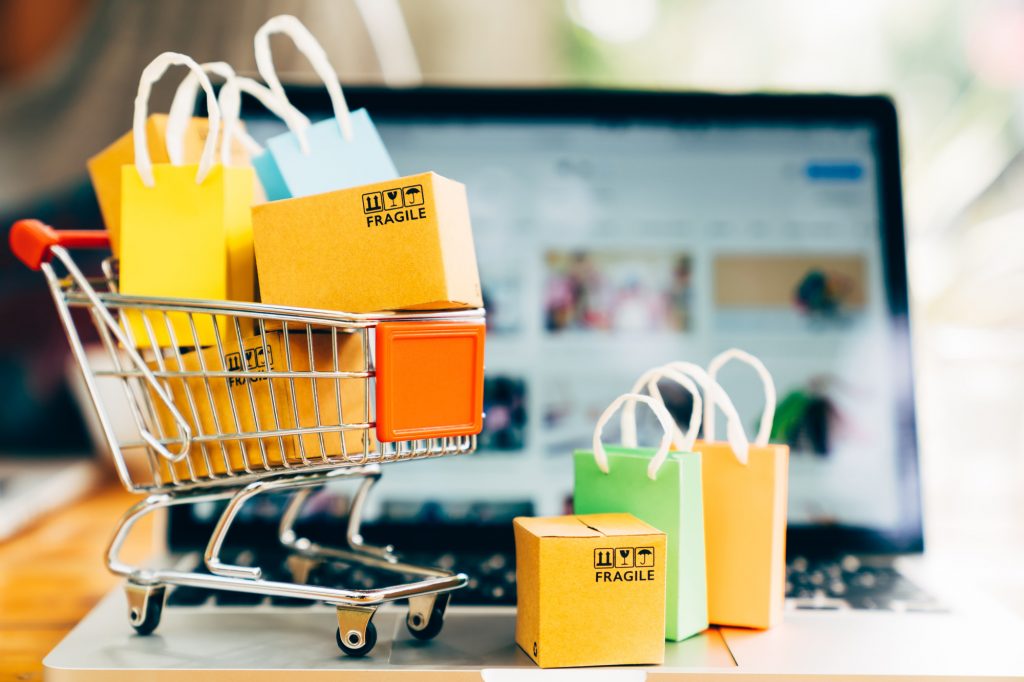 If you are the owner of a product-based business, you have probably thought about the pros and cons of eCommerce vs retail. 
This is an ongoing debate that seems to have no end. Many business owners and retail experts are predicting the death of the traditional brick and mortar store, and eCommerce being the only viable option left. 
However, statistics show this is simply not true. While eCommerce is growing quickly, retail stores are holding on and experiencing some growth of their own. 
So, what does this mean for your business? 
In a nutshell, it means the best decision is determined by a few factors that need to be carefully considered. By thinking about your product, your ideal client, their buying habits, and the pros and cons of eCommerce and retail, you can make an informed decision that is best for your business.
If you are not sure of which type of business to run, here is everything you need to know about eCommerce vs. retail. 
eCommerce: A Brief Overview
Simply put, eCommerce is buying and selling goods online. As a business owner, you can sell your products online through your eCommerce website, various online marketplaces, or you can use a social media platform to connect with customers and make sales.
The first sale ever made online was on August 11, 1994, and since then, eCommerce has drastically evolved. Today, you can sell items that haven't been made yet with print on demand, you can sell without any inventory via dropshipping, and you can even sell items that don't exist in any physical form, such as ebooks. 
It's no doubt eCommerce has changed the way the world shops, opening new opportunities for both buyers and sellers to, in an instant, buy or sell something from or to someone on the other side of the world.
eCommerce is already generating several trillion dollars per year, a number that is only expected to grow in the upcoming years.    
eCommerce Pros
The eCommerce business pros seem endless. If you establish your business online, you can expect:
Low start-up fees: unlike a brick and mortar store, you only need your product and selling platform for an eCommerce business. Depending on what you are selling, you can be up and running for under $100. 
A larger market: part of the appeal of an eCommerce business is you have access to a larger market. You can sell items to someone across the world, as easily as to someone in your neighborhood.
A personalized customer experience: there are all kinds of ways to personalize the customer experience when you have an eCommerce business. Personalization makes your customer know, like, and trust you, which leads to increased sales. 
Running an eCommerce business comes with many advantages. You have a lot of freedom with eCommerce that you will not experience with a brick and mortar store.  
eCommerce Cons
Just like there are pros to running an eCommerce business, there are also a few cons. Some of the cons you may experience are:
An unreliable website: your website or the eCommerce platform you use has to be reliable. If the site is slow-loading, always crashing, or is poorly designed, you will lose customers.
Delivery issues: unlike a brick and mortar store, you cannot control when your customers will receive their item and if it is damaged or not. Although you cannot control the process, your customers will associate any delivery problems with your brand, and not the delivery service. 
Security problems: eCommerce stores are the main targets for hackers because of all the personal data and financial information. You will need to make sure your security is up-to-date at all times. 
These are the disadvantages of having an eCommerce business you may experience. While they might not seem very serious, all of them can negatively impact your business if they are not avoided or taken care of immediately. 
eCommerce Marketing Strategies
Marketing your eCommerce business is slightly different than marketing a brick and mortar store. You will need to use strategies and tactics that are compatible with online shopping. Some of the best strategies include: 
SEO: using search engine optimization on your website is essential. By implementing SEO, you can make sure your store is found in an organic internet search. 
Content marketing: one of the best eCommerce marketing tips is to use content marketing. You can blog about your product, create videos, partner with influencers, and even use memes. 
Social media: eCommerce and digital marketing go hand-in-hand, and that includes your social media channels. You can use certain features on social media, like a shoppable Instagram, to digitally market your products. 
By using these methods to market your business, you can increase sales while increasing your chance of success.
Retail: A Brief Overview
Retail is the traditional way to do business selling goods. You buy or lease retail space and your customers buy from you in person. While you may think of retail as purely a brick and mortar store, you can also sell products at mall kiosks, trade show booths, pop-up stands, and more.
This method of selling is the way the world has always done business, which makes it familiar and comfortable for the customer. This is why people are much more trusting of shopping in person than shopping online.
While retail is mostly about sales, it is also about customer relationships. As any store employee will tell you, there are customers they see weekly and know by name. Shopping this way makes customers feel valued and important. 
This leads to customer loyalty, and overall, increased sales.  
Retail Pros
There are several pros to owning a store or other retail channels. Some of these advantages include: 
A local business: have you ever heard the advice to shop local? People shop locally as an environmentally-friendly way to support their local community. Some customers will only shop locally, which is ideal for in-person retailers. 
Excellent customer service: interacting with customers in person gives you a better opportunity to control your customer service. You can provide excellent customer service, with a personalized touch, that keeps them coming back for more. 
Interaction with the products: one of the biggest deterrents from buying online is not being able to interact with the products. Seeing and touching a product is a form of trying before buying, which is the nudge some customers need to make a purchase. 
Running a retail store comes with many advantages. Ultimately, you have a better chance of building customer relationships that will last for generations with a retail store. 
Retail Cons
Just as there are advantages to running a brick and mortar store, there are also disadvantages. Some of which include: 
Operation costs: a brick and mortar store costs a lot to operate. You will be paying for rent, employees, inventory, permits, licenses, and more.
Location limitations: your location can be both an advantage and a disadvantage. If you open your store in the wrong location with little to no foot traffic, you can doom your store before you even start.
Staffing problems: a physical store costs a lot to staff, especially if you have a high turn-over. You also have to deal with employees calling out from work, disputes, hiring, and firing.  
These disadvantages are why some think retail is dying. However, by working through these problems, you can still grow a thriving retail business. 
Retail Marketing Strategies
There are many retail marketing strategies you can use for your business. With the rise of online businesses, some of these marketing strategies may seem outdated but they are still proven to be as effective as ever. You can consider: 
Sales psychology: the layout of your store, the way you build your displays, and even the lighting you use are all informed by sales psychology. The first step in marketing your retail store is to understand the triggers that make people buy.
Print advertising: running ads in the newspaper or putting out a circular is proven ways to market your retail business. A simple coupon in a newspaper can bring in hundreds of customers.  
In-store events: holding an event in your store is an ideal way to build customer relationships in a fun and engaging way. You can offer educational classes, celebrate a product launch, or support a local charity.
Use these marketing strategies to establish your brand as an important part of the local community. 
eCommerce vs Retail: This Is What You Need to Know
By reading this guide on eCommerce vs retail, you will be able to decide what is best for your business. 
eCommerce is easy to start and gives you access to a larger market, but you may have a problem building trust with your clients. You can market your eCommerce store with social media, content marketing, or by implementing SEO. 
Retail gives you an opportunity to build relationships and let your customers try before they buy, but it also requires a lot of time, effort, and money. You can market your retail store by using sales psychology, print advertising, or being active in your local community.
Weighing these pros and cons should help you decide if you will use eCommerce, retail, or a blend of both. 
Don't forget to browse our site for all of your SEO needs.