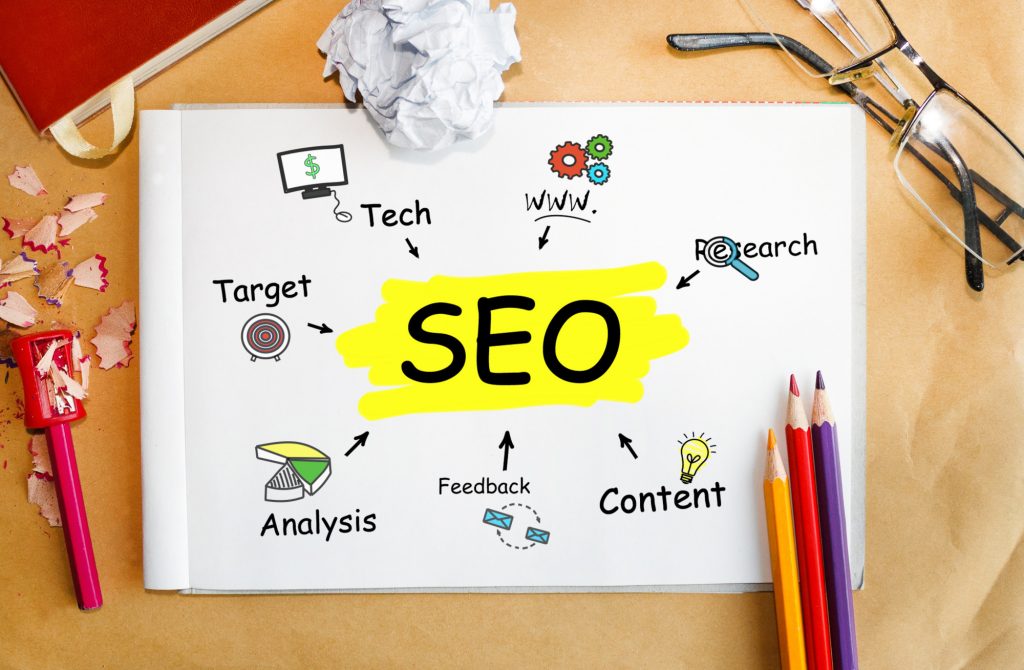 There are more than 5 billion Google searches performed each day, amounting to 2 trillion per year. In other words, Google has never been more popular.
As a business owner, what does this mean for you? One word: opportunity.
Many forms of advertising and marketing require spend. You have to invest money in a billboard, online advertisements, or TV commercials. But organic traffic from Google search results? It's free.
In order to take advantage of this free traffic, you simply need to work on your site's search engine optimization (SEO). And we've created this guide to help you make it happen.
Keep reading to learn how to improve SEO on your website today.
Start by Researching Keywords
The bedrock of improving your SEO strategy is targeting the correct keywords. In fact, every page of your website should have a few keywords you want to rank for.
What is exactly is a keyword? It's a common phrase that people search for on Google. 
Say that a common phrase in your industry is "affordable hot tub." Your goal, then on your hot tub page, is to help Google's algorithm know that you sell these. You do this by including the keyword.
This way, when someone searches for your product or service, your website will show up.
To figure out which keywords you should target, you should do some research. There are lots of tools, both free and paid, that can help you understand search volume and which keywords would be best for you to go after.
And when you improve your keyword usage, you'll grow your site traffic, therefore increasing revenue. Win-win.
Start Writing Content
Now that you've established which keywords you want to tackle for each of your pages, it's time to write your site content. Maybe you have an existing website with pretty well-written copy. Or maybe you're starting from scratch.
Either way, this is a crucial step.
Use your keyword research to write your page's headlines and body copy. Also, be sure to include calls to action to encourage visitors to take the next step.
In addition to your page's copy, you can include additional copy in the forms of blog posts, videos, or eBooks. This educational content can be super helpful in driving people down your marketing funnel.
Include Links
Now let's touch on another huge technique for how to improve SEO on your site. The answer? Linking.
Here's why it matters.
Simply put, Google likes to see that other websites link to your site. This signals to Google that your content is relevant, reputable, and trustworthy. And because of this, your rankings will improve in their search results.
So whenever you can add links to your site and get other sites to link back to you, this is a great idea.
For external linking, you should engage in outreach. Try to connect with some well-known sites that have strong domain authority. If they link to your site, this will greatly improve your rankings.
But also work on your linking internally. Each page should have multiple links to other pages on your site. This demonstrates to Google that your content is related, telling a cohesive story to visitors.
Optimize the Images
Next on your SEO improvement journey? Working on your pictures.
This is an area of improving your SEO that surprises people who are new to the field. But it's incredibly important.
If your website's images are massive, they will slow down your site. And the longer your site takes to load, the worse it will perform in Google search results.
Remember that Google's goal is to provide users with an amazing experience. So if your site takes forever to load, they will ding you.
First and foremost, your pictures should be the correct format. PNG is optimal, and JPEG is also satisfactory.
Next, resize your pictures. In many cases, images on your site can be made much smaller and still enjoy great quality. 
Work on Titles and Descriptions
Last but not least, it's important to work on your site's titles and descriptions. The truth of SEO is that little details matter. And this is one of those cases.
So what exactly are these?
The title is the text that appears in the browser to let users know what the page is about. Google also uses this as the main text in their search results.
The meta description, sometimes just referred to as the description, is the extra copy that displays below the header in Google results, helping users know more about the page content.
The key here is that Google uses these to determine what your page is about. So be sure to include your primary keyword for that page.
And if you target a specific geographic area with your company, include that too. This will help your pages rank better too. 
If you need help, a professional SEO company can help. Check out these SEO company reviews for ideas. An agency with years of experience will be able to provide valuable recommendations on strategy, best practices, and provide development work to improve your website.
How to Improve SEO: Final Thoughts
There you have it: how to improve SEO for your website. Now that you've gone through these ideas, it's time to make a plan for your specific situation.
Assess your strengths and determine your weaknesses. This will help you know where to focus your efforts.
Soon, you'll enjoy amazing results thanks to your hard work. Not to mention additional revenue for your business.
Want additional tips and tricks? Check out our blog today for other helpful articles.