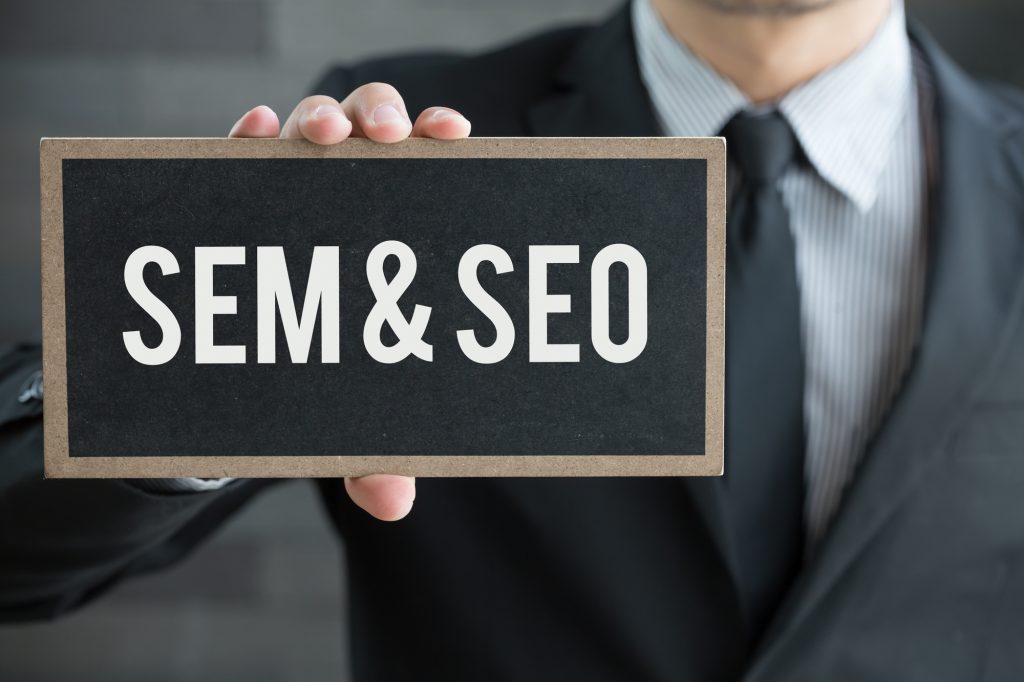 SEO. SEM. SERPs. PPC.
What do these buzzwords mean and why are they important when it comes to ranking your site on Google?
Search Engine Marketing (SEO) and Search Engine Marketing (SEM) are two different approaches that achieve the same goal. One relies on a search engine's organic results while the other is purely advertising.
But what is the difference between SEO and SEM?
This article breaks down search engine optimization and search engine marketing. We detail how each method works, their associated costs, and how they differ.
Read on to learn how to market your business more effectively online using SEM and SEO.
What Is SEO?
Let's go back in time to 1998.
Google was the new search engine on the block. It worked like the others in that it reviewed web site content using a process called spidering. When a user searched, Google matched those words or keyphrases against its list of known sites.
What set Google apart was its PageRank algorithm.
PageRank looked at a website in context. What other websites linked to and from it? Were they reliable or spam? Did the website content relate to the theme of the site?
The search engine results pages (SERPS) Google returns are termed organic listings. You don't pay to be there but Google ranks your site according to its set of rules.
Search Engine Optimization or SEO describes how you should best match your site to what Google feels important.
But what does Google feel is important?
We'll answer that question shortly, but let's first examine the three types of SEO.
Three Types of SEO
SEO practices fall into three categories: On-Page, Technical, and Off-Page.
On-Page SEO
On-Page relates to individual web pages and not a complete website. They refer to content like text and images and the HTML code behind the page.
Examples of optimizing a web page's content include adding keywords to the title tag. Titles appear as links in search listings so it's essential you get them right. Would you click a result that just said 'Homepage'?
Technical SEO
This relates to the hidden elements of a site like how quickly it loads and if it's secure.
Google guidelines urge a mobile-first mantra where developers should build for mobile devices. Over 61% of all Google searches are done via mobile phone so that makes sense.
Other crucial technical SEO factors include if your data is well structured and has high up-time. In other words, make sure your web host is reliable and online!
Off-Page SEO
Google values reputable links. They give your site 'the rub' by sharing their authority.
Off-Page relates to quality link building to and from your site.
This doesn't mean the more links you have the better. Thousands of inbound links from low-ranking sites actually appear as spam to Google.
Good SEO examples include getting a link from your product manufacturers. Or being mentioned in a widely-read blog. Someone who Google ranks well already.
What Is SEM?
Simply put, Search Engine Marketing or SEM involves paying to advertise your site on a search engine.
Adverts are separate from organic listings. In Google, they appear at the top and/or right side of the page. You'll see a small 'Ad' or 'Sponsored' sign and a picture for shopping results.
These ads work on the principle of PPC or pay-per-click where you only get charged if someone clicks your advert.
Pay Per Click
Google Ads provides a simple way for you to advertise throughout Google's services. The process works like this:
Set your goal e.g. to increase traffic to your website
Choose where to advertise – either local or regionally or worldwide
Create your ad – three short sentences to hook visitors
Set your budget – a monthly maximum fee which can change when you want
Go live – your ad appears in search results, Google Maps, and partner sites
PPC ads go beyond simple text or banner options.
You can advertise within YouTube videos to increase exposure. Though technically not SEM, combining search ads with YouTube ads can see a 3% increase in conversions.
What Is the Difference Between SEO and SEM?
If you answered cost you'd be wrong.
Although you don't pay Google to have your site listed it will cost to optimize it correctly.
Backlinking strategies, content and copywriting, and blog article building take time and resources. It's a hard slog and results aren't guaranteed, especially for competitive keywords.
The real answer is speed.
With SEM, your adverts can go live within 24 hours. They appear for the exact keywords you want and won't go over your budget.
They aren't limited to Google Search either. More eyeballs from Android apps and partner websites will produce higher visitor counts.
So why bother with SEO at all if it will cost you money?
SEO vs SEM: Which Should I Choose?
Don't discount SEO just yet. Adverts need to link somewhere.
Landing pages on your site should turn visitors into paying customers. They need to be optimized for humans and not just for Google. Ultimately it's a person you want, not a computer.
By combining SEO with SEM you get the best of both worlds.
Over time, your SEO will pay off but use SEM to drive traffic now. Google's guidelines clearly state what it defines as a 'good site' so follow their guidance.
SEO and SEM strategies need to be managed to see results. Will you do it yourself or hire a digital marketer you can trust.
Aim for a team who can deliver PPC, SEO, social media marketing, and content marketing. They should have a proven track record and mustn't be afraid to show it on their website like https://www.digitallogic.co/.
Pricing should be clear and up-front. You don't want hidden fees popping up on your bill. Do some homework and calculate your monthly budget spend so you know what to aim for.
Free SEM and SEO Tools
Now that you understand what is the difference between SEO and SEM it's time to optimize and market your website.
Our site offers a range of SEO tools including an alternative Google Keyword Planner. Our Free Ranking Tool uncovers high-ranking keywords to push your SERPs.
Remember to check out our articles on search engine marketing with a guide on Google AdWords. Why wouldn't you? Everything's free!