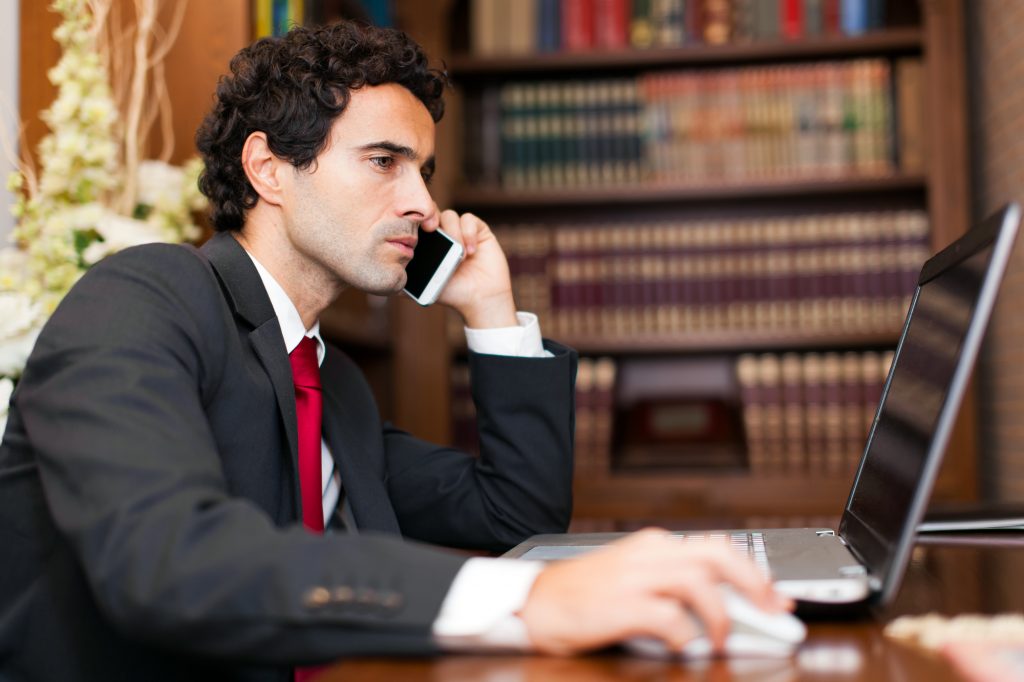 Nearly 100% of all people seeking legal advice start their search online. 
With 1.35 million lawyers in the United States, competition for search engine marketing (SEO) rank is fierce. 
This market saturation makes it difficult to stand out. Everyone seems to be getting the same advice, so how can practice without millions to spend on marketing every year really differentiate themselves? 
Read our law firm SEO guide to learn how. 
Check Your Brand 
Before you dive into an SEO strategy, you need to do a quick audit of your brand. Your keyword strategy will need some kind of direction to follow, so before you start, ensure the purpose, values, and messaging of your brand are crystal clear. 
Not only will your brand lay the foundation of your keyword strategy, but it's becoming even more important for SEO. Google's BERT algorithm showed us that Google is actually starting to put more of an emphasis on the topics your brand is associated with, in addition to keywords and links. This makes it even more important for your brand's messaging to be consistent across all digital and physical platforms. 
The update showed us the growing emphasis on featured snippets and link-less search results. Even if you appear in the top search results for a given topic, users will only likely actually click on the website of a website with some kind of brand authority. 
This also comes into play with social media. BERT also revealed that link-less mentions in social media will be considered by the search engine the same way mentions that are linked to will. 
This tells us that it will become increasingly important to prove your authority through authentic sharing and mentioning across all types of public-facing digital content.
As organic social media strategies continue to die out, the only legal firms that will stand a chance competing in the ad space will be practices that are trusted and provide resources. 
Law firms should not only implement a social media strategy but also focus their efforts on the quality of content they're posting and monitoring their audience to engage in a way that will generate more brand mentions. 
Choose a Modernized Keyword Strategy
SEO is SEO, regardless of the industry you're in. It's better to work with someone who is an excellent SEO marketer with limited legal industry experience than a legal industry specialist without an impressive portfolio. 
So following the basics is the best starting place:
Choose your core topics
Create a diverse mix of long and short tail keyword phrases for each topic
Make landing pages for each topic
Optimize your website 
Produce optimize original content 
Implement an off-page strategy 
Consider paid search campaigns that are targeted and specific 
Establish goals and important KPIs
Track your progress and conduct monthly reports 
The keyword strategy has changed. The recent BERT update changed keyword-stuffing strategies from not just being the old way, but to being ancient. 
If you missed the memo for the past few years, considering mobile search is not optional anymore, it's essential. But not only does your website need to be optimized for mobile, but you've got to consider the different ways users search on their phones. 
There is a noticeable shift towards voice-based searches. Over 20% of all mobile search queries are by voice. They are specific, longer, and usually based on location. 
Keywords users are searching for via voice will also start with words like "Google," "Alexa," or "Siri."
Don't Underestimate Location 
Most law firms serve specific, location-based markets. This means that the location needs to be considered when creating an SEO strategy. 
You absolutely must have a Google My Business profile that's optimized. But another key aspect of how visible your business profile will be in search results is the quality of your backlink portfolio. 
But what's interesting is that Google is now considering the location of the websites and sources that you're being linked to decipher who is a local authority. 
This means that getting coverage and links from influential local sources is incredibly important. 
Consider getting media coverage in addition to establishing cross-promotional relationships with local businesses. For example, you could connect with an urgent care business or financial management service and establish a referral network where you link to each other's websites. 
Optimize Your Website for Law Firm SEO 
Your website needs to be optimized and built out to support your SEO efforts. Someone who is well-versed in website architecture and content should start by running an audit of your site. 
If your firm is undergoing a rebranding or has been in existence for years, this process could take some time to analyze and rebuild. An expert will look for structural issues in your site that could be negatively impacting your search results. These are issues embedded into the coding of your site, duplicate pages, error pages, and more. 
They will also check to make sure the strategies behind your website's on-page content are still relevant to your goals and updated for Google's most recent algorithm update. Know that content isn't just a blog, it's all the copy on your website. 
Law firms should have a handful of core services they choose to focus on; maybe one to five. Each of these core topics should have their own optimized and detailed landing page that acts as a resource page for website visitors. 
Create Original Content 
We cannot stress this enough: you've absolutely got to have original content to really play the SEO game. 
The emphasis placed on true brand authority by Google's algorithm means that the same old content that everyone else is posting is not going to be enough anymore. 
Your content needs to be high-quality; your aim should be to have the best content for the expertise you have or the topics you want to rank for. Keywords still matter, but Google's algorithm can now review how authoritative your content actually is. 
This means that law firms will really need to understand who their audience is so that they can deliver the answers and resources they're searching for. We cannot emphasize enough how important it is to approach your content strategy as a service to your audience, and not a tool for direct self-promotion. 
The video will continue to become a dominating force in search. Video is 50 times more likely to show up in search results than text. But videos need to be purposeful, and they need to be high-quality. 
Choose video topics that relate to the core service pages of your website. If you don't have the budget for a production crew, consider doing high-quality Q&A style videos that only require a mic, tripod, and DSLR camera that records video.
You could create a Facebook page for your community to submit general legal questions too. You can easily schedule one photoshoot day every quarter that knocks out months' worth of content. 
There's also the option of creating graphic-heavy videos. There are a lot of tools that make it easy to create videos like these. The key is to make sure they serve a clear purpose, are branded, and have a high-level feeling. 
Transcribe your videos for a boost in search results. 
Whether you're blogging or vlogging, you need to distribute your content. Just because you put something on your website doesn't mean someone will find it. You've got to share the content across social media so that people can find you. 
Leverage Influencers
Influencer marketing for law firms? We're not suggesting that you get a reality TV star to make Instagram posts about your firm. What we are suggesting is that you get active with the influencers in your community and leverage them to bring attorney leads to you. 
One way to do this will also support your need for more original content. Consider doing weekly interviews with the municipal leaders in your town. If there has been a spike in crime, do a Q&A with the police chief. 
The beauty of this is that there's always news to generate ideas from. There's also the opportunity to create human interest stories about clients (who give you their permission) whose lives changed by the legal system. 
You could publish the Q&A as a blog post, YouTube video, or as a feature on a legal podcast you host.  
Harness the Power of Off-Page 
You need to work with someone who has experience with guest posting and is up-to-date on the latest link building practices. 
Having to stick to specific legal topics can feel limiting if you're not used to creating guest post strategies and conducting outreach to earn placements. But one of the best ways to locate sites that you can submit guest posts to and that are high ranking is to benchmark the backlinks of your competitors. 
Another tactic is to search for broken links on other sites that you can alert the problem to then suggest new links. 
Publish press releases when your company has actual news. If you need news, make some. Distribute press releases on high-volume news wires. 
You can even consider reaching out to your town's newspapers and magazines as a resource for legal questions when they need quotes or interviews from actual lawyers. 
Authentic reviews and testimonials from clients are incredibly powerful tools to invest in too. Consider providing your clients with an incentive to leave a public review, testimonial, or video. You could even create template Q&A interviews to send to happy clients to fill out and publish on your blog and distribute to local media. 
Make sure your company is listed on directory legal sites like Avvo. Optimize your profile and manage your account regularly. 
Leave AdWords to the Professionals
AdWords is a great solution for law firms, but only if you fully understand what you're doing. We've met so many lawyers who say that AdWords is a waste of money or doesn't work for them. But in reality, the error is usually with the strategy. 
AdWords can be a powerful lead generating tool that unlike organic SEO, has a faster turnaround for results. But you need both organic and paid strategies working for you to become a truly powerful force in your market. 
You can waste a lot of money on AdWords, but you don't need nearly as much as you probably think you do if you understand the platform inside-out. Google makes it seem easier to do yourself than it is. We're guessing that's a big profit generator for them. 
Make Sure Your Expectations Are Set in Reality 
Competent SEO agencies and consultants are completely capable of implementing your SEO strategy without you. But if you want to become an "influencer" in your market, you're going to need to put in some work. 
High-level law firm SEO isn't only about keywords. It encompasses all aspects of who you are as a business and brand. 
You might need to become more active in your community and undertake speaking engagements and get involved with high-profile litigation to build the authority you're looking for.
It might be hard to accept, but you need to let go of any expectations you have for ranking on the first page of Google within 30 days. Google's algorithm is demanding higher-level marketing strategies that require time and nurturing to generate results. There aren't any shortcuts in modern SEO. 
If you're just starting to build your brand, it can take years of consistency to get where you want to be. This is why it's so important to take your time to find the right SEO partner to work with. 
Need more tips on how to take your legal practice to the next level with digital marketing? Check out all of our free tools!