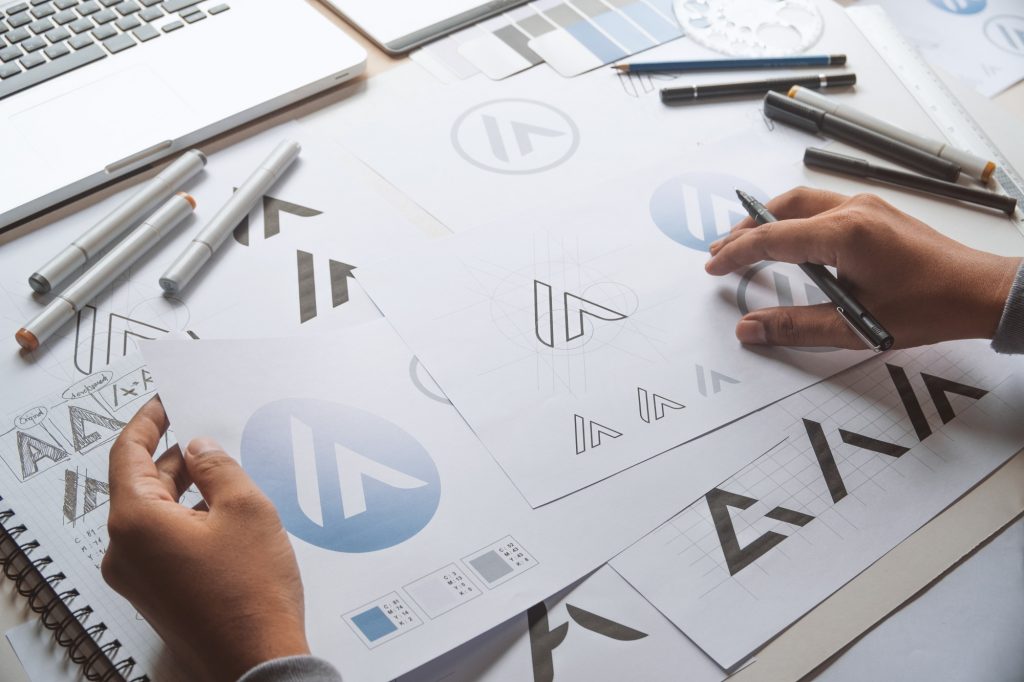 Graphic design is a visual form of communication. It passes on messages and ideas through imagery.
Not sure how valuable it is? Check out these famous logos redesigned using Comic Sans. The much-maligned font completely changes the image of each brand.
If it can damage your brand, it can improve it too. But how?
Let's take a look at the benefits of graphic design for digital marketing.
Graphics Are Attention-Grabbing
Graphic design is a visual language that humans understand faster than words. So, these graphics make it easy to grab attention. Remember, your copy converts, but imagery gets the eye first.
A good piece of graphic design can stop a user scrolling through their feed. Once you have their attention, then the rest of your marketing can take effect.
The best place to use graphic design is on social media. A balanced, well-designed image stands out amid the template-heavy graphics.
Tweets that include images get 150 percent more retweets than those without.
Getting these graphics shared far and wide is an easy way to get your brand in front of a wider audience.
Imagery Overcomes the Language Barrier
The internet is a global marketplace. Not everyone your brand encounters speaks English. Well-designed graphics can still communicate even if you speak different languages.
This is clearest to see in the world of logos. The Nike swoosh and the Apple logo are recognizable all over the world.
If you need a new logo, then look for design software with stunning features. A package like Logo Maven makes it easy to create a new logo yourself.
But it even works in the world of sales pages and email marketing. Choosing the right imagery helps add context to your headlines. Even if a reader's English is shaky, the images create a better understanding.
Graphics Communicate Your Brand Personality…
One thing many marketers get wrong is they think they create the brand. It's easy to see why they think that.
But a brand is actually created in the mind of the customer. They add up all their perceptions and experience to make a mental image of the brand.
No marketer can fully control how that process happens. But using graphic design, you can lay clues to guide the customer.
The right font helps tell a story about what the brand stands for. Just look at those Comic Sans examples above.
Using the right colors help the customer to understand the brand in an instant. And the choice of imagery also feeds into the perception of the brand.
Look at the difference between Innocent Smoothies and Pepsi.
Graphics act as a form of shorthand to get across these ideas in an instant.
…And the Right Emotions
It's not only your brand personality that graphics can convey. A well-designed image is better at provoking an emotional response in a viewer.
The world of advertising shows this in a clear way. You'd need a lengthy radio ad or a long sales page to convey the same emotions that you find in a visual ad.
This links back to the point about graphics being attention-grabbing. If you can grab someone's attention and provoke an emotional response?
Your brand will be the one that sticks in the customer's mind.
It helps when selling products, too. That's why authors use clever visuals to communicate the feel of their book in a Facebook ad.
Then the reader can check out the blurb once they click the link and head to Amazon.
Graphic Design Makes a Good Website Great
With the wealth of available website builders or templates, it's hard to make a 'bad' website. But it's easy to make a mediocre one.
And worse, if you use stock imagery, you risk making a website that looks like hundreds of other sites.
By working with graphic design, you can boost your good website to being great.
That means a simple website looks minimal, instead of boring. Or a cluttered website becomes engaging and exciting.
When you're paying for visitors to click your ads? Make sure you capture their attention when they get to your website.
Return to Traditional Marketing Methods
You don't have to stick to marketing online. Marketers are going back to direct mail and flyers. Fewer people use these traditional marketing methods so they're less competitive.
But by using graphic design, your marketing materials become a thing of beauty. By standing out from the pack, they catch the eye. People are more likely to pick them up.
If you're marketing a local business, these traditional methods help generate foot traffic.
Add Value to a Blog Post
Blogging still forms a cornerstone to many content marketing strategies. But why stick to the written word?
Add images to help support your points and guide readers through your post. The brain can process an image in 13 milliseconds. So you don't need to keep explaining your point over and over.
And turn the best points into an infographic. That gives readers something to share on social media. Which gets your blog post in front of even more people.
Infographics can even boost web traffic by 12 percent so they're worth using.
Expand Into Product Packaging
If you sell physical products? Your packaging is a vital part of your marketing. 
Using graphic design to create beautiful packaging materials boosts your brand. It helps tell customers that you care about their experience.
And it also helps make products look more expensive or distinctive. Make an excellent first impression with well-designed packaging.
The Benefits of Graphic Design for Marketing Are Clear
Now you know the benefits of graphic design for digital marketing. Good design helps lift your brand above your competitors. Use clear and thoughtful imagery to emphasize your points.
It adds context and meaning to your written marketing materials. And it helps your content to grab attention when users scroll through social media.
If you use graphic design principles on your website users are more likely to stick around. Which helps improve your search engine optimization (SEO) efforts.
Want to know more about SEO? Check out our other articles for more tips and tricks.