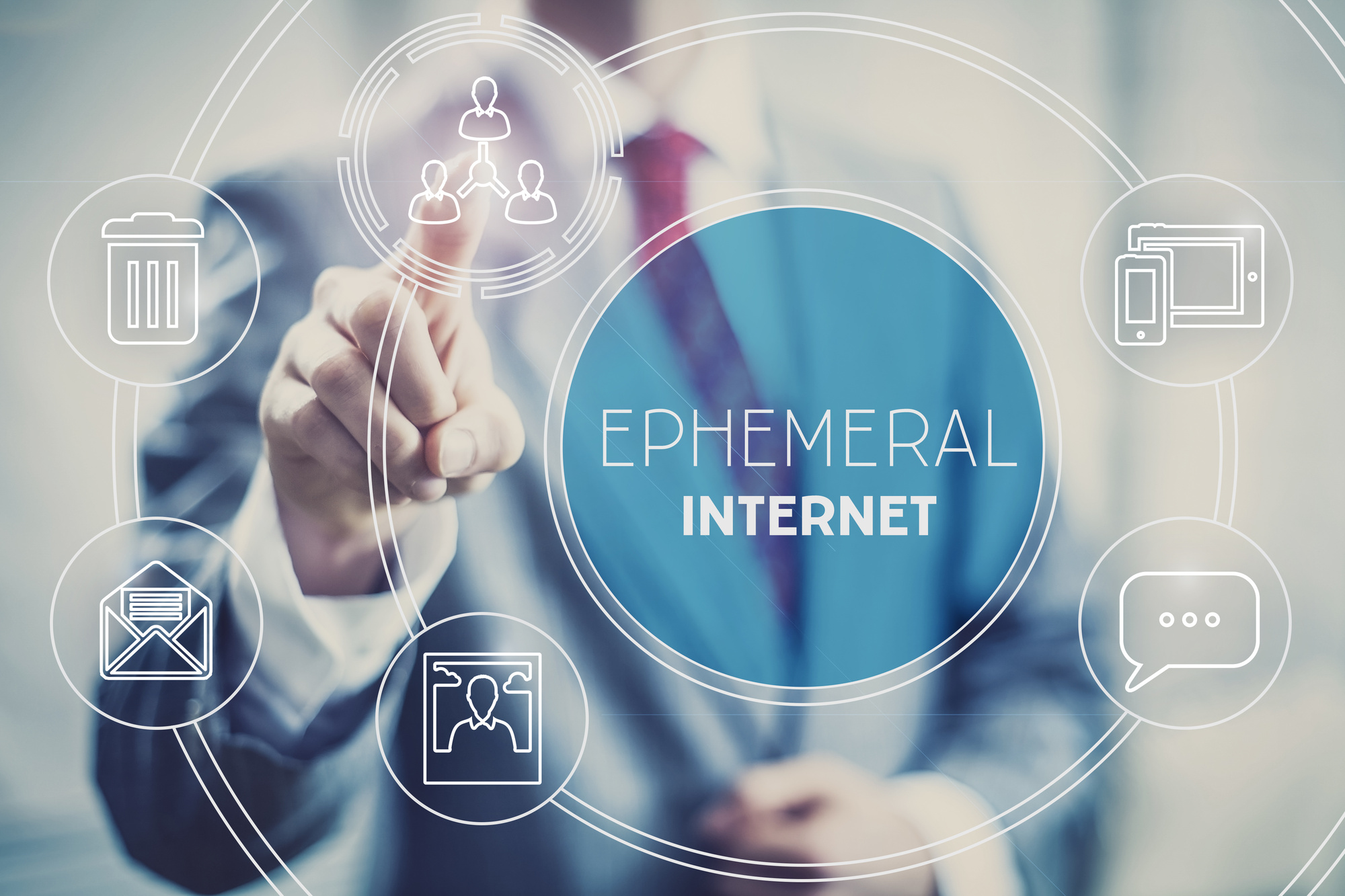 What are the advantages of content that exists for only a brief period? Ephemeral content is one of marketers' latest tools in the content strategy playbook. It's driving huge advantages in engagement and SEO.
Marketers continue to seek elusive ways to engage users. Traditional marketing dictates long-term exposure and visibility as best practices. But marketers are realizing the immediate value of temporary material.
Ephemeral marketers have two primary goals. The first is to elicit an immediate response from consumers. Marketers can appeal to consumers' "fear of missing out" (FOMO) to increase traffic.
The second is user engagement. Ephemeral content comprises rich content like images, videos, and interactive materials. Their temporary nature plays upon users' appeal for authenticity and value.
Marketers are integrating ephemeral materials with existing content and SEO strategies. They will increase search rankings during each ephemeral lifespan. They will optimize content to engaging users across platforms as well.
Why Ephemeral Content is Appealing to Users
"If developers want to reach a younger audience, ephemeral content is the way to go," says Forbes. "But when posting, it's important to know the medium."
Snapchat is the originator of the term and ephemeral format. Social media is already a fluid environment where content is always shifting. Rich, short-lived content found a home there among users seeking the next great "Share."
"The importance of sharing a moment is increasing," Forbes continues. "But keeping that memory in a photograph isn't as important."
Marketers call this tendency the fear of missing out. FOMO is unique to social media because in 24 hours, shared content becomes yesterday's news. (In fact, news organizations align old social content with stories about past events.)
An ephemeral video is short and easy to digest. HubSpot is the leader in inbound marketing strategy. They recommend video lengths of only 30 seconds to two minutes.
But platforms play a role in how users interact with content. Users perceive channels differently depending on the content status quo. Users access YouTube to watch longer videos than they would digest on Twitter.
Users will respond differently to content formats as well. For example, voting or taking a poll on Twitter is simple. The right brands and rewards make this an appealing way to engage.
Facebook users find live video appealing. This drives FOMO by its very nature. Facebook supports liking and emojis while streaming is taking place as well.
How Ephemeral Connects with SEO
Developers must be creative when using SEO to drive traffic to temporary content. SEO already plays a role in content marketing as part of an inbound strategy. Ephemeral contributes to this strategy by offering value-added experiences.
Now search engines are working to ephemeral marketers' benefit. Google's algorithms favor fresh content of an appropriate length. Developers who use appropriate keyword density can leverage these features to their advantage.
Marketers and developers must repeat this process when they create new short-term experiences. The addition of fresh content will add a boost to search engine appeal. But that advantage disappears when the content comes down.
Google's algorithms are smart enough to recognize value. Substantive content that visitors appreciate increases opportunities for engagement. Traffic from word-of-mount can find your new content without a struggle as well.
Finally, your content will benefit from "vertical" search. Search engines drive up results for new and rich video. Google's specialized searches will drive valuable engagement for your ephemeral piece.
Three Ways to Position Ephemeral Materials
Platforms, value, and SEO contribute to the success of your content. Different content types and strategies will dictate the terms in these areas. Length of your content will play a role as well.
The following are three use cases of ephemeral content. Consider how you might apply your strategy in each of these scenarios. You'll be one step closer to growing your new content strategy.
1. Facebook Live
As a platform for ephemeral content, Facebook Live is a grey area. Live feeds post to users' feeds after the broadcast ends. But the engagement features are only accessible during real time.
This unique approach requires temporary content to be streaming. That means pre-recorded content is not an option. Marketers should have a clear premise and their live "actors" ready for engagement.
Facebook Live is the preferred format for news organizations for live coverage. This adds new dynamics to breaking news as users can take part. News organizations have seen incredible engagement as users participate in historic events.
Facebook Live is great for brands as well. Brands can partner with experienced influencers for exposure to key audiences. Brands can provide authentic experiences to drive trust and loyalty as well.
2. Instagram Stories
Instagram offers an ephemeral content platform called "Stories." This feature has a live video option like Facebook Live. Unlike Facebook, replaying videos is only available for 24 hours.
This increases the FOMO appeal. Brands that build awareness for exclusive live events will see better engagement. Users recognize these events as singular opportunities they can't afford to miss.
One great strategy is to give users "behind the scenes" access. This might involve a large event for the company itself. New product releases, anniversaries, and charity engagements are examples.
Brands can engage users for practical reasons as well. Launch a focus group for key insights from proactive audiences. Show users you value them to build loyalty and trust.
Brands can go wild and have someone else take over. The content only exists for 24 hours, so why not? Give the reigns to a favorite customer, a public figure, or a random person on the street.
3. Snapchat Marketing
Snapchat is the ultimate ephemeral platform. For one, you cannot save content to your feed in the long-term. But most importantly, users can view your content only once.
Brands take strategic approaches to engaging users on Snapchat. "Takeovers" are popular for a short-lived humor and ingenuity. One shipping company had delivery drivers film drop-offs to happy customers during the holidays.
Other brands use employees and daily interactions to personify their brand. Users experience these events temporarily and in real time. They get one step closer to the lives within the companies they've grown to love.
With ephemeral content, brands 'run alongside' their audiences in the digital world. In that way, ephemeral content is a vehicle that drives value on both sides. It's a means of connecting the living worlds of both brands and their customers.
Learn More About Ephemeral Marketing Strategies
Keep informed about trends in ephemeral content marketing. WebConfs.com provides the latest guides and resources for keeping your digital marketing strategy up to date.
Visit us online for more SEO resources. See our glossary for important SEO terms every digital marketer should know.