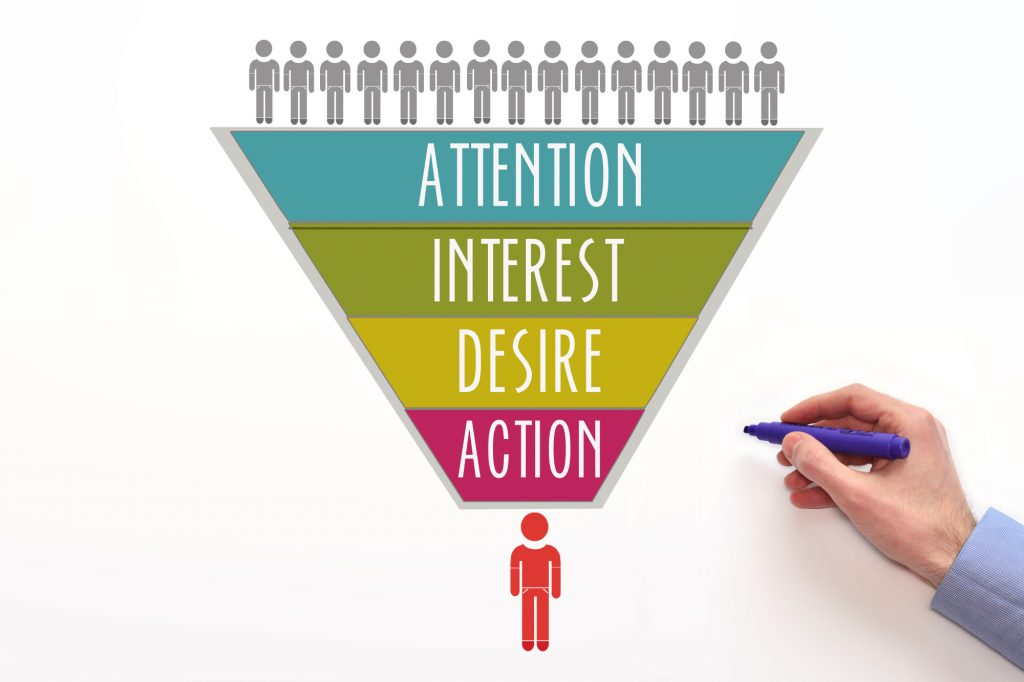 If you want to get ahead in the digital world, it's not enough to have money and spend that on advertising. True online success comes from skillfully turning a stranger on the internet into a new, paying customer.
It sounds simple enough, but in practice, this can be a minefield. How do you go about getting someone to buy your goods and services if your brand isn't a big household name like Amazon or Apple?
Thankfully, smart marketing veterans have figured out this conundrum already. That answer is the digital marketing funnel. In this guide, you'll learn what a digital sales funnel is and how to use it in your online business.
What Is a Digital Marketing Funnel?
A digital marketing funnel is an established marketing process. It is simply a way of getting a prospect to buy from you.
At the top of the funnel is someone who knows nothing about you. As that prospect learns more about your business, that prospect travels further into the metaphorical funnel.
At the end of the funnel is your ultimate goal: getting your prospect to make their first purchase.
Customer Awareness and the Marketing Funnel
Rarely does someone discover a new company and make an immediate purchase. Before they can reach that stage, the prospect needs to have a level of awareness. This customer awareness sits at the heart of digital funnels.
At one end of the funnel, we have people who are not ready to buy and might not even know they need to purchase anything. For example, a mom might have a baby who doesn't sleep but isn't aware she needs to buy.
Next, you have a set of prospects who have a specific need but don't know what they should buy. That's the mom who needs to buy a sleep solution but doesn't know what to pick from thousands of products for sale.
Finally, at the other end of the funnel, you have the customer aware of their problem and aware of your product. They know your brand, and they are contemplating making that purchase.
How to Capture Leads With a Digital Marketing Funnel
How you capture leads will depend on the type of person you are running a promotion to and their level of customer awareness.
A good marketing funnel will cater to people at every funnel level and ensure that these funnel stages are fully optimized to convert that specific customer.
If you haven't captured leads online before, make sure you opt for specialist support in lead generation, such as this service from HyperTarget Marketing. It will help you get the process set up correctly.
Top of Funnel
When you are trying to attract people right at the start of the funnel, you must focus on supporting your customer with the problem they have.
Returning to our sleep-deprived mom as an example, you could offer a free eBook on sleep solutions for newborns or perhaps an in-depth blog post offering a guide for new moms.
It is too early at this stage to expect a purchase. Instead, focus on getting that lead onto your email list. Once someone is on your marketing list, it will be easier to move that person further through your funnel.
Middle of Funnel
At this point in the funnel, you aim to attract prospects who know they have a need or a problem but don't necessarily know your brand.
When a prospect is at that stage, you want to entice that person to learn more about your product. Free trials are a great way of attracting leads in the middle of the funnel as they offer the chance to try your product or service risk-free.
Bottom of Funnel
The perfect lead is the customer ready to pull out their credit card and make that purchase. Your challenge at this point in the funnel is to develop a relationship built on trust.
If this lead is on your email list, now is the chance to nurture them. An autoresponder sequence allows you to provide some background to your business and your product.
Customer testimonials also work great at this stage of a funnel. If a customer is on the fence about making that purchase, a five-star review can go a long way to persuading them to click the buy button.
How to Test and Optimize Conversions
When it comes to creating a funnel, the success lies in repeatedly testing that funnel to optimize conversions. Testing and optimizing is the difference between a funnel that is adequate and a highly profitable funnel.
Start with A/B testing. A/B testing means putting two marketing pages side by side, sending traffic to each, and establishing which marketing page achieves the highest conversion rate.
Most off-the-shelf funnel platforms offer this functionality as standard. If you don't use funnel platforms, you can set up these tests manually with a bit of assistance from a developer.
When optimizing your funnel, make sure you also take the time to analyze your traffic sources.
Capturing and monitoring this data is going to help you target your paid marketing to the traffic sources that are most effective for your promotional campaigns.
Make sure you set up analytics monitoring that will capture that customer journey through your funnel.
You might find that you're getting great conversions at the top of your funnel from one traffic source but that very few of these leads convert into customers.
It's vital to measure how these leads are converting throughout the funnel to ensure you are getting a good ROI on your marketing spend.
Getting Your First Funnel Launched
Once you understand how a funnel fits within your overall online marketing strategy, your promotional approach becomes far easier to put together.
The smart marketer knows that if you spend the time and effort now mapping out your digital marketing funnel, you'll still reap the rewards in years to come.
Make a start today. Create your marketing funnel, and use it to launch a marketing plan for 2021 that will help you make giant leaps in your online business success story.