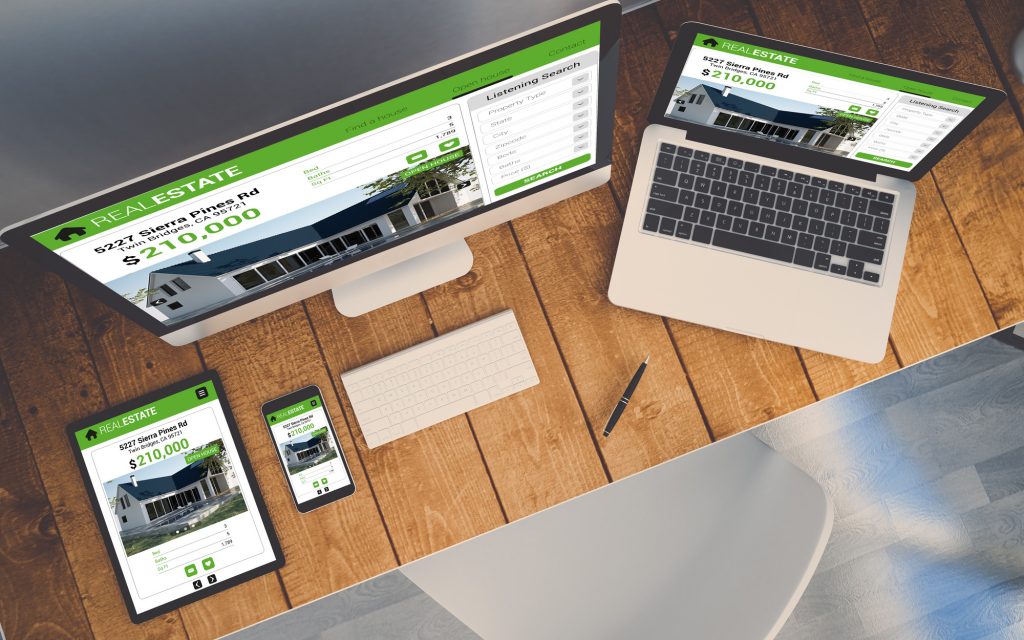 Around 50% of buyers found their homes through the internet so it's crucial to tap into this audience. 
Real estate websites are a fantastic way to advertise listings, raise awareness about your agency, and reach out to potential buyers. Perhaps you're on the fence about taking the plunge and are hoping to be convinced.
Sounds like you? Luckily, you've come to the right place. Here's how to create a real estate website.
Decide the Type of Real Estate Website You Want
Before we dive into how to create a website, it's important to understand the variations of real estate sites.
For instance, you can build a real estate directory site where viewers can browse property listings. Users can also upload their property under different categories whether it's a condo or a three-bedroom apartment. 
Another option is a single property website that focuses on its features and location. Unlike the directory, it's simple with a few pages and plenty of images to showcase the property. You'll also post the location, amenities, and contact details for those interested. 
Or, if you're an agent, you'll want a realtors website that introduces visitors to the agency, shows what you specialize in, and the services you provide. But these don't always feature property listings.  
If you're only interested in leasing then consider a rental property website. It's like the real estate directory but solely for rental properties.
Buy a Domain Name
One of the top real estate website tips is to choose an effective domain name, the address of your website.
Take the time to create the perfect domain name as it's the first interaction buyers have with your brand. It must be short, easy to spell, and memorable. You should also add your location as it's handy for customers and search engines. If you don't want the location in the name, then consider getting a location-based domain extension like .nyc or .la.
Find a Web Host Service 
You must find a web host provider so you can run the site. There is a wealth of options and plans depending on your needs but, to begin with, a basic plan is enough for a realtor site. You must also choose a content management system (CMS) so you can build your site writing no code.
Real Estate Features to Include
What makes real estate website design distinguishable from the rest is because of the features displayed.
First, you'll need the basics like user registration so sellers can quickly set up an account on your site. It must also be easy to create and manage a property listing so they can upload photos or edit any copy. Further, use maps throughout the site so buyers can see the location and visualize living in a new neighborhood.  
You should also feature a submission form for buyers interested in learning more about the property. Plus, it's useful to add categorization, search, and filters so visitors can find relevant listings while keeping your site organized.
And don't forget to add this ARMLS IDX listing to your site to rank higher, convert more, and create a great user experience.  
Upload High-Quality Photos 
You don't want to bombard visitors with huge walls of copy so use images to break them up. It's important to find the right ones as they have the power to capture emotions and help buyers visualize themselves at the property.
Use stock photos and video footage as they're an affordable option for your site. Or, if you have the budget, invest in a professional photographer to snap photos that align more with your brand so it feels more authentic.
Add an About and Contact Page
When designing a website, you must include an "About page" whether it's for you or your team.
It's a critical component for a real estate site because it shows your credibility and instills trust in potential buyers. You should also include personal information such as your success stories, examples of your skills, and how your services dwarf your competitors'.
Further, create a "Contact page" so clients can easily reach you. Aside from posting your basic information, provide a form so visitors can leave their information so you can reach them later.
Use Web Design to Highlight Your Brand's Colors
If you're after web design tips know that you must reinforce your brand identity through the site. Post your logo in an obvious place so visitors instantly know who you are.
Choose colors that relate to your brand but avoid using over three colors otherwise your design will look loud. Further, keep the website clutter-free by dividing sections and pages using a secondary color.
Create a Mobile-Friendly Website 
Nearly 75% of the global population will use their smartphones by 2025. 
Because of the staggering amount of people using mobile devices to surf the web, make yours mobile-friendly. The site should load properly, be easy to navigate on a smaller scale, and the images don't overwhelm the page. Building a responsive site is difficult so hire professional help to ensure it runs smoothly.
That's How to Build a Real Estate Website 
Hopefully, after reading this article, you now know how to build a real estate website. 
Choose a memorable domain name, include the essential real estate site features, and upload high-quality photos to entice buyers. Make sure your web design reflects your brand identity and create a responsive site so it's accessible on an array of devices. Good luck!
Did you find this article helpful? Awesome! Then check our posts on everything from Business Products to Marketing.