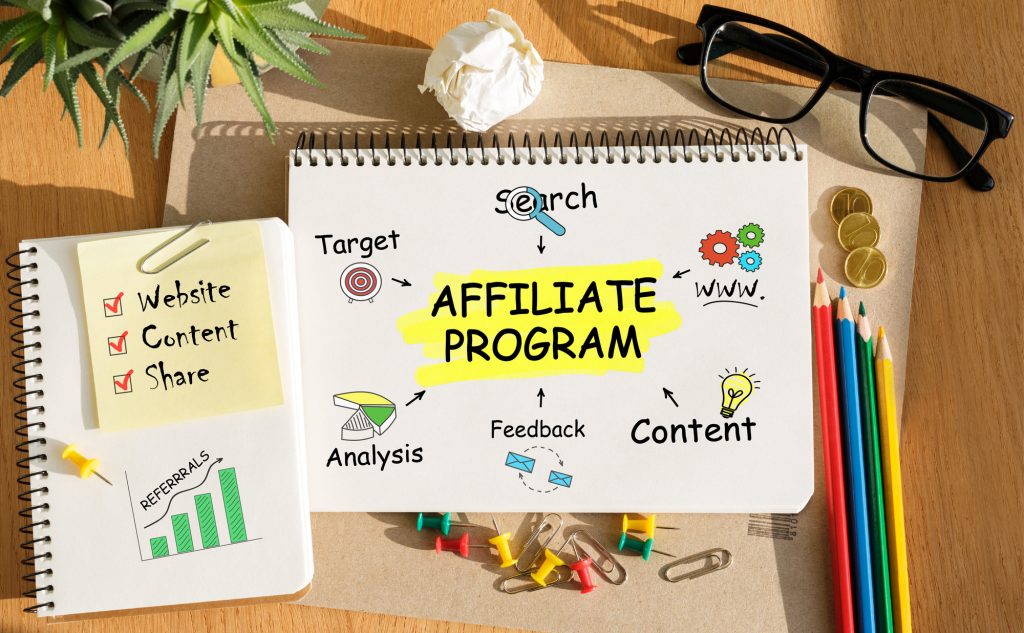 If the only thing that comes to mind when you think of affiliate marketing is linking Amazon products on a blog, you're in for a shock.
While the Amazon Affiliates program is a great way to monetize your blog or website, it's far from your only option.
There are tons of affiliate programs out there that can help you make money selling products and services through your website, simply by adding a few links and promoting the products through your content and SEO strategies.
If you're ready to start boosting income through your website, keep reading for a list of affiliate programs that every webmaster should know.
1. Shopify
Shopify is perhaps the most famous eCommerce platform on the web. It's on our list of affiliate programs because it's also one of the best platforms for earning passive income through promotion.
As an affiliate for Shopify, you'll be promoting Shopify's services, rather than any products or services being sold by their customers.
The great thing about becoming an affiliate for such a well-known company is that their services largely sell themselves. Shopify offers everything that a new eCommerce business owner needs to get started, along with plenty of guides and tutorials for doing so.
Shopify offers a range of banners and templates for affiliates to choose from and allows you to earn as much as $2,400 per customer.
If you have a blog or website that offers online marketing services, business tips, or other related topics, Shopify should be at the top of your list of affiliate programs.
2. eBay
Like Shopify, eBay is a household name worldwide.
While it may seem like an odd choice for a list of affiliate programs that are profitable, if you choose to promote the right products, it can be an awesome source of passive income.
The trick is to choose products with a high price tag to maximize your commission. Choosing low-cost items or those that are too unique to target a specific audience is a waste of time and ad space.
One great product for affiliates is used cars. The popularity of these items and their high price tags can be a great formula for success.
Unfortunately, because you'll need to choose popular, expensive products to promote, finding items on eBay to promote that fit your website's niche can be tough.
3. Clickbank
If you're new to affiliate programs and want to test them out before committing to one that charges a registration fee or requires you to jump through hoops to register, Clickbank is a great alternative.
It's free to get started and you won't even need to apply to become an affiliate. Instead, simply browse Clickbank products and choose one that you think would be popular with your followers.
Then, click the promote button, and create an account. From there you can easily get links for adding products to your site and start earning commission right away.
One benefit of Clickbank is that it offers tons of products, which means that there's likely an option out there for blogs and websites on any topic. Additionally, there is a potential for a big payout, as commision rates range from 10 percent to as much as 75 percent.
4. Avantlink
Avantlink is different from many of the other companies on this list of affiliate programs.
Rather than promoting items for sale directly through the company's website, if you become an affiliate with Avantlink, you'll actually get connected to other companies looking for marketing opportunities.
Avantlink will help to connect you with vendors related to your industry or topic, and then help you link to their site or platform to promote your chosen products.
One downside is that the vendors you work with will set their own commission rates. But the upside is that you can seek out vendors who match your website's style, which can give your affiliate promotions a more natural, less spam-like appeal.
5. Avangate
Digital products and software downloads are a popular product that can sell great on the right websites. But not many companies on this list of affiliate programs offer digital products.
Avangate does. As an affiliate, you can promote a range of digital products, likes software or eBooks, as well as other items related to the internet and technology, like computers.
6. Travel Payouts
If you own a travel blog or website related to travel tips, it can be tough to find the right affiliate programs.
You could promote products like suitcases or cameras that your readers will use for travel. But it's easy to start sounding like a salesperson and losing out on potential readers if you overdo this.
Instead, it's better to find affiliate programs that allow you to promote other travel-related purchases, like plane tickets, hotel stays, or activities.
Travel Payouts is one great source for this. While the commission rates are low, if you promote enough products and have steady traffic, it can be a great way to earn some passive income.
7. Amazon Associates
Amazon Associates is the best-known affiliate program because it is also one of the best for earning a passive income, and should definitely be considered by every webmaster.
With Amazon currently dominating countless industries, Amazon products largely sell themselves. All you have to do is choose the right products and promote them effectively through your website, and the money will start coming in.
Choosing the Right Company from Our List of Affiliate Programs
As people around the world begin to replace traditional shopping with online browsing, affiliate marketing is becoming increasingly popular.
It's projected that by the end of this year, retailers will have spent more than $5 billion on affiliate marketing.
If you're ready to cash in and start earning a passive income through your website or blog, it's time to become an affiliate marketer. But first, you have to choose the right company to become an affiliate for.
Start by considering the products or services that would interest your readers or web visitors, and then look through the companies on this list for the ones that offer similar products or services.
Affiliate programs only work if you have steady traffic to your website. Whether you've already become an affiliate and are looking to increase commissions, or you've just launched your website, check out this guide to learn the basics of SEO in just 15 minutes.